Where: The Congo
Minimum Requirements: 54" 
Ride Time: 2 minutes
55 seconds
It is said that if you can hear the roar of a lion in the distance, you have crossed into his territory.....and have been warned.

The natives call his roar the Kumba. And you'll feel his breath on the back of your neck from the moment you step aboard the mighty coaster that earned his name.

Consistently voted one of the world's top roller coasters by enthusiasts around the world, this legendary beast takes you from hair-raising heights to absolute weightlessness through seven inversions, all with the grace and speed of this magnificent predator.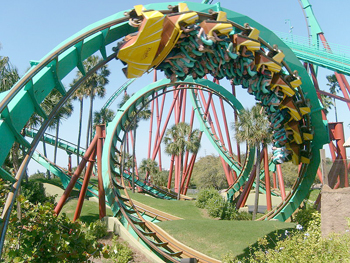 Dim lights Embed Embed this video on your site