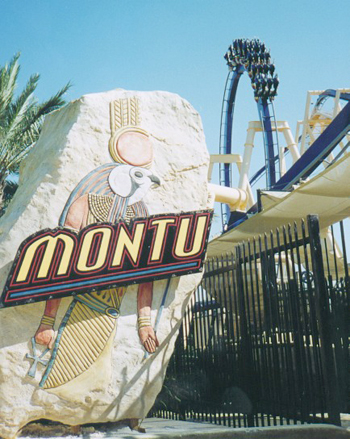 MONTU
Where: Egypt
Minimum Requirements: 54" 
If you're crazy about coasters, Montu has your lucky number: 7. That's the number of insane inversions you'll do on this monster coaster - one of the tallest and longest inverted coasters in the world.

Named for an ancient Egyptian god of war, conquering this coaster is a challenge that will test your courage at every turn.

Consistently rated as one of the top steel coasters in the world for its unique Batwing inversion and the intense 3.85 Gs you'll feel blazing through this thrilling track, it's easy to see what keeps this beast on the coaster enthusiasts' favourites list year after year.
Guests go through the line house looking at heiroglyphs before boarding the inverted trains. You then board and begin to pull down the restraint before going down into the first trench with a dip before the lift. After going up the long lift, you take the long drop down to one of the biggest loops done by B&M, then dipping down into the tunnel where you get your picture taken and up the immelman which makes a great foot chopping effect against the giant pylon that greeted you to the entrance of this white knuckle thrill. After going through the Immelman, Montu goes through a nice and forceful barrel roll and dips again before going up one of Montus unique feature, the Batwing. The Batwing is rare on inverted coasters (only 2 having them) The Batwing goes into another one of Montus trenches then heads back up into the midcourse brake run. After that you drop right into another trench with a loop and helix, when the ride eerily slows down on one of the trenches and dips again into the last trench into a Zero-G roll that is half underground, half over earth and goes up a turnaround into the final brakes knowing you have survived the force of the Egyptian God of War, Montu.