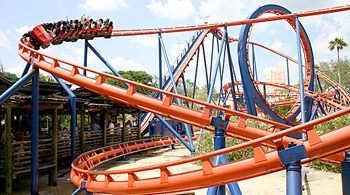 SCORPION
Where: Timbuktu
Minimum Requirements: 42

" 
Masterful design and a timeless looping track make it easy to fall under the Scorpion's spell.

The vision of legendary coaster designer Anton Schwarzkopf, the Scorpion is one of only three of its kind remaining in the world today, yet its sting is every bit as effective at instilling thrills through every twist and turn.

Race through this desert jewel at speeds of more than 50 miles an hour. Then dive into a 360-degree vertical loop, where 3Gs of force will send you spiralling forward for an unforgettable ride.

Make your way to Timbuktu and feel the sting of the Scorpion.
This is the place to come to decide if you have what it takes to tackle the bigger coasters in the park. The Scorpion is far and away the tamest of the lot, although it does have one up-and-over loop. So if you've never been "inverted," this is as good a place to start as any.
Riders board the  trains and secure the lap bar, you heard right, lapbar, not over the shoulder restraints. Anyway, riders board the trains and head out of the station and up a 65-ft lift toward the twisting drop down to the loop. The train crests the top of the lift and the ride is on. The train barrels down the drop and into the only vertical loop on this ride. The loop pulls some nice G-Forces on your head. Upon exiting the very forceful loop, you hit a pretzel-knot curve. This twisting curve sends the train into a series of tight helixes, which are the finale of this small but impressive ride. Following that, the train plunges into the brakes and comes to a complete stop. The brakes are released and the train slowly heads back to the station.