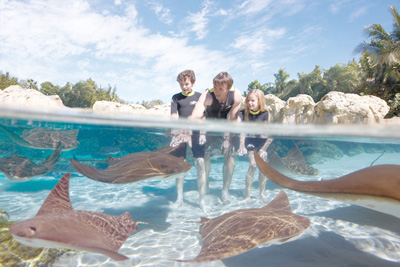 Stingray Shallows
Enter Stingray Shallows and experience the awe-inspiring presence of these majestic, graceful, gentle animals. Wade among them. Or reach out and touch their velvety wings as dozens come to welcome you to their secluded, tropical home.
Prepare yourself for an amazing opportunity to snorkel with these peaceful animals who gladly allow you to touch them and feel their surprizingly velvety skin. Some of them can grow up to 4 feet but no need for concern as they are just gentle giants.
You don't have to pay a small fortune to feed the rays. Food is freely available at regular intervals from the attendants, who are extremely knowledgeable sources of information about their charges.