Flea World
Hwy 17-92
Sanford
FL 32771
(407) 330-1792.
Regular hours: Only open weekends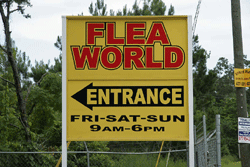 Enjoy flea markets? Then y

our first stop should be Flea World. It is certainly the biggest in Orlando and it might just be the biggest in all of the United States. It is located outside of Orlando on Highway 17-92. On any weekend (and it is only open on weekends) as many as 50,000 visitors come to the market. The market has an indoor and an outdoor area and includes 1700 booths. If it is a very hot day then spend more time in the air-conditioned indoor area.

Flea World is actually much more than a flea market because it also has the kind of entertainment and fun areas that you would expect in an amusement park or in a theme park.

The entertainment includes acrobats, magicians and other circus performers.