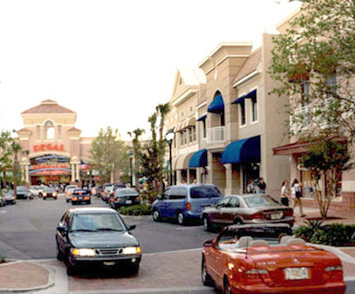 Winter Park Village
400 North Orlando Avenue
Winter Park, FL 32789
407-571-2700
Regular hours: MON-SAT 10:00 am-9:00 pm SUN 12:00 pm-6:00 pm
Live, shop, work and play. Winter Park Village offers a fashionable selection of shops and restaurants in an open-air, pedestrian friendly setting. At WPV, there's every convenience under the sun.
Nearly all of the Winter Park Mall was demolished. The sole remaining portion, which had been Ivey's and later Dillard's, was redesigned to become the Lofts of Winter Park Village. The 58 rental units feature a curator to manage the art displays upstairs; there is retail space below that includes The Cheesecake Factory. The Village also has several other restaurants, bars and the Regal multiplex cinema, in addition to stores that vary from small, quaint shops to nationally known retailers. 
This is the place to spend time away from the mall madness. Enjoy a refreshing shopping experience among palm trees and oak shaded walkways, then catch a movie and a gourmet dinner. Whether shopping at a boutique for unique gifts or just looking for a place to unwind, Winter Park Village has it all!
Specialty shops and restaurants at Winter Park Village include Amici Salon & Spa, Apples to Zinnias, Borders, Brio Tuscan Grille, Chamberlin's Market Cafe, Guitar Center, Jos. A. Bank Clothiers, Inland Ocean, Learning Express Toys, Liz Claiborne, New Balance, Owen Allen Fine Gifts & Home Accents, Patchington, Pier 1, Relax in Comfort, Schakolad Chocolate Factory, Walk on Water and many more!