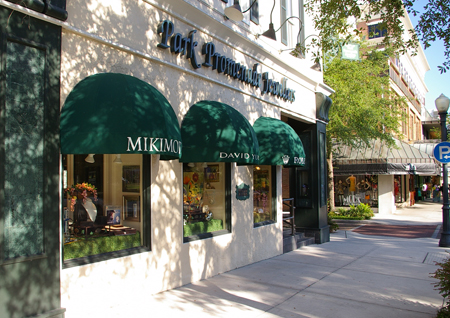 Park Avenue
Shopping District
150 North New York Avenue
Winter Park
, FL 32789
407-644-8281
Bordered by a shady park that plays host to concerts and art festivals, Park Avenue is home to one-of-a-kind boutiques and well known shops, sidewalk cafes and world class restaurants, as well as world renowned art collections in the area's museums.
In 10 tree-lined city blocks, shoppers can find some of Central Florida's best shopping, with everything from high-end footwear and designer lingerie to fine wines and pooch-friendly pastries. National retailers like Restoration Hardware, Ann Taylor and Pottery Barn share sidewalk space with locally owned boutiques along Park Avenue in the heart of Winter Park.
Park Avenue in downtown Winter Park offers a full day of shopping and entertainment. The last couple of years have seen a mass exodus of the chain stores that came to dominate shopping on Park Avenue, leaving the street open to the return of boutique shopping. Most of these stores are privately owned and offer merchandise that cannot be easily found elsewhere.
For shoppers and nonshoppers alike part of the fun of Park Avenue is exploring the little nooks and crannies that divert you from the main drag. Tucked in an alley between Lyman and New England Avenues is Palmano's, a great little coffee bar that will sell you a hot cup of brew or a pound of its fresh roasted beans.
In the middle of the next block are the Hidden Garden Shops, which house Pooh's Corner, a delightful children's bookstore specializing in hard-to-find titles. Also on Park Avenue are numerous art galleries, antique jewelry stores, a cigar shop, and a gentlemen's barber shop where you can treat yourself to a haircut and a shave.
Theres is 3 hr On-Street parking. Free all day parking available in 7 municipal parking lots within one block of Park Avenue. Two parking Garages on North Park Avenue (free parking) and South Park Avenue (paid parking). 2 Complimentary Valet parking stations on North Park Avenue and South Park Avenue.
From I-Drive and the Attractions
Take I-4 East toward Orlando. Take exit 87 - Fairbanks Avenue FL-426. Travel approximately 2 miles. Turn left on Park Avenue
Estimated travel time 20-45 minutes.