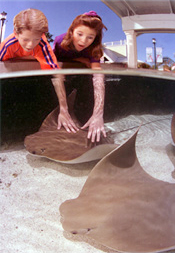 Both mature and fledgling stingrays glide around this long shallow pool which is raised to waist height, making it easier to reach them. They are quite accustomed to being touched. Despite their name, stingrays are one of the most docile animals to inhabit the oceans.
Rest your hand flat and under the surface of the water and feel the velvety skin of the stingray as they glide under your fingers.
The habitat showcases up to 200 stingrays, some spanning five feet in diameter.