Height restrictions: 54 inches or taller
The queue line for the coaster (from which non-riders will be able to gracefully exit) begins with a total immersion in an aquarium filled with 300 rays of all descriptions — shark rays, spotted eagles rays, leopard rays, cownose rays, and oscillate river rays.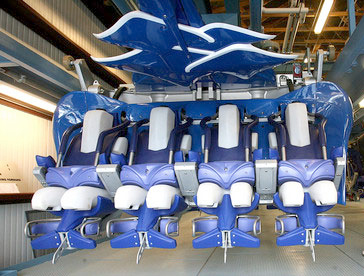 Manta is a flying roller coaster which simulates the sensation of flight. In this case, it is meant to resemble how rays—and mantas, in particular—appear to "fly" through the oceans and seas they inhabit. Guests are initially seated upright on the trains, in one of eight rows that each holds four passengers, for a total of 32 riders. Prior to departure, mechanisms in the station raise the cars up to the track, such that the riders' spines are parallel to the track. Guests are secured in their seats using a locking lap bar and a vert-like harness, as well as flaps at the riders' ankles to hold their feet in place.
Manta begins as the roller coaster train departs the station and climbs the 140-foot-tall lift hill. At the peak, the train dives down towards the right and then swoops upward, passing the attraction's on-ride photo cameras prior to entering the 98-foot-tall pretzel loop. The train dives head-first to the ground and then climbs back to the top of the element. It next takes a U-turn to the left through the pretzel loop, after which it encounters a counter-clockwise in line twist. As Manta exits the twist, it enters a 270-degree downward helix to the right, passing close to the ground below and crossing through the pretzel loop a second time as it enters its first corkscrew. After the corkscrew, the train climbs up above the station's return track and reaches the mid-course break run.
Manta enters the second part of the course by diving down towards a lagoon near the theme park entrance, banking to the right as it approaches. The wings of the lead car appear to skim the surface, kicking up a splash of water (created instead by timed water jets). The train rises, still banked to the right, before diving again, this time towards a waterfall as it continues turning to the right. After missing the waterfall by inches, Manta then enters its final inversion, a second corkscrew, prior to a final U-turn leading to the final break run and the return to the station.
Dim lights Embed Embed this video on your site
Dim lights Embed Embed this video on your site