SHARKS UNDERWATER GRILL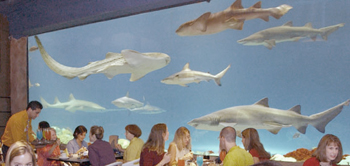 Appetizers 
Coconut Crusted Chicken Spears $7.95
Get a taste of the tropics with these succulent chicken tenders rolled in coconut then deep-fried, and served with a grilled pineapple wedge and passion fruit dip.  
Caribbean Conch Chowder $4.95
All hail the Queen! - Queen conch, that is, served with delectable sweet potatoes, and fresh vegetables, and simmered in a tangy tomato broth
Chilled Shrimp and Scallop Cocktail $7.85
A classic dish with a Florida twist. Seared gulf shrimp and sea scallops with our homemade Key Lime vinaigrette served with a luscious bed of fresh greens
Pizza Fromage $6.95
Wood-fired flatbread pizza with brie, asiago, mozzarella and cheddar piled high and slowly melted over our own roasted tomato and garlic sauce
The Pizzeria $6.75
Traditional tastes with a savoury smoked flavour. Our wood-fired classic is made with our own roasted tomato and garlic sauce mozzarella cheese, mushrooms, black olives and pepperoni
Pizza Bella $6.45
Inspired by the colours of the Italian flag, we created a combination of spinach, parmesan and mozzarella cheese, red peppers, onions and roasted garlic for one bella pizza
Tropical Bruschetta $6.95
Cuban bread, toasted and topped with fresh tomato, virgin olive oil, balsamic vinegar, garlic, onion, mozzarella and parmesan cheeses, and a hint of mint
"The Great White" $4.55
Chopped leafy greens with bacon and tomatoes, tossed with our creamy gorgonzola vinaigrette, topped with fried onion wisps and served with an asiago parmesan cheese fin
Spinach Salad $4.75
Green never had it so good. Fresh spinach tossed tableside with a warm red pepper balsamic vinaigrette and freshly grated parmesan
Citrus Caesar Salad $4.55
Caesar would never believe this spin on his namesake dish. Crisp romaine lettuce and a unique citrus Caesar dressing, dusted with freshly grated asiago cheese and herb croutons
Oak Grilled Specialties
Filet Mignon $22.95
One half-pound of USDA prime tenderloin grilled over oak wood, topped with a jerk-seasoned demi glaze and melted gouda cheese. Served with a fried garlic yucca cake
Salmon Filet $18.45
Eight ounces of fresh center cut salmon filet, accompanied by grilled corn and roasted poblano pepper mashed potatoes so incredible, you'd swim upstream to order it
Shrimp and Smoked Chicken Barbecue $19.95
Two favorites, smoked chicken half and three jumbo shrimp basted with our own unique guava barbeque sauce, served with roasted corn and island baked beans
N.Y. Strip Steak $24.95
Twelve ounces of USDA prime sirloin, marinated in chimmi churi, grilled over oak wood and crusted with fontinella cheese and brown onion. Served with Caribbean bean cassoulet
Ahi Tuna $18.95
Sushi grade ahi tuna loin quickly seared on our oak grill, served over our tropical slaw and finished with whipped chimmi churi and a habanero cream sauce.
Moho Pork $18.45
Petit pork tenderloin marinated in Cuban moho, served with a rich black bean sauce and island rice
House Specialties
Blackened Sea Scallops $20.95
Indulge in these culinary treasures of the sea, jumbo scallops blackened then finished with a creamy tomato-citrus buerre blanc. Served with a grilled vegetable Napoleon and garlic yucca cake
Jumbo Lump Crab Cakes $17.45
Two types of crab, seasoned and blended, sauteed and paired with our two distinct sauces: a tangy key lime mustard mayonnaise, and a savory papaya cocktail sauce
Chorizo-Stuffed Breast of Chicken $16.75
Tender chicken breast filled with flavourful Mexican sausage, in a sweet potato next surrounded by a creamed, spiced demi glaze
Caribbean Seafood Ragout $18.95
Shrimps, scallops, fish and vegetables simmered in our roasted tomato herb sauce, tossed with fresh linguine
Sharks Trio $19.95
Our culinary team has fashioned a special presentation of their finest seafood creations - herb crusted tuna, scallops and shrimp, pan-seared, seasoned with rosemary, cilantro, parsley and basil, or if you prefer, blackened with zesty cajun spices. Finished with a mango-papaya sauce
Young Adults Menu
(Recommended for ages 10-15)
Oak Grilled Petit Filet Mignon $10.95
Grilled to perfection and served with fried onion wisps, poblano seasoned mashed potatoes and grilled corn cobbette
Oak Grilled Salmon Filet $9.95
Oak grilled and served with poblano seasoned mashed potatoes and grilled corn cobbette
Grilled Chicken Breast with Orange Glaze $7.75
Served with french fries and grilled corn cobbette
Popcorn Shrimp $8.75
Tender shrimp in a crisp batter, fried golden brown and served with french fries and fresh fruit
Children's Menu
(Suggested for children under the age of 10 years)
Pasta Marinara $5.95
A plate of fresh linguine, topped with our special marinara sauce accompanied by garlic toast
Jumbo Oak Grilled Hot Dog $5.75
All beef hot dog, oak grilled and served with french fries and fresh fruit
Chicken Tenders $6.55
Tender white meat chicken, breaded and fried, served with french fries and fresh fruit
Desserts
Loan Shark Brownie $5.25
A fudge brownie and blondie duo, topped with butter pecan ice cream. Served with chocolate sauce and a warm pecan caramel sauce. Topped with fresh whipped cream
Heavenly Delight Sun & Moon $4.25
Rich chocolate mousse in chocolate cake, covered with chocolate ganache, served with chocolate sauce and fresh orange segments
Passion Fruit Flavoured Flan $4.25
Rich and creamy flan with the flavor of passion fruit
Caged White Chocolate Mousse $4.75
Rich white chocolate mousse served with mango and chocolate sauce. Garnished with fresh strawberries
Coconut Napoleon with Caramel Rum Sauce $4.75
Chocolate dipped shell filled with a coconut pastry cream and served with a caramel rum sauce and a vanilla sauce