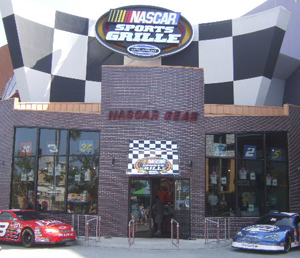 NASCAR SPORTS GRILLE
Hours: 11:00a.m. to 11:00p.m.
Reservations: (407) 224-RACE for priority seating
MENU

The NASCAR Sports Grille is sure to please any racing or sports enthusiast with a menu featuring signature Ribs, Pastas, Sandwiches, and much more.

With a sleek, new dining atmosphere, table-side plasma screens (you choose what you want to watch),  state-of-the art NASCAR Simulators and games, and a large plasma wall to watch your favourite race or game,  you will enjoy a fun and exciting dining experience!
A small NASCAR shop with a separate entrance is filled with some nice logo-ed clothing and other NASCAR souvenirs.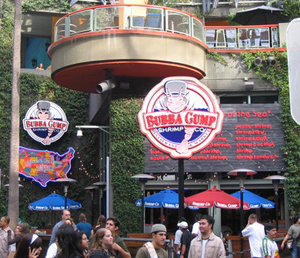 BUBBA GUMP
Hours: 11:00a.m. to 12:00a.m.
Reservations: No
This fun family restaurant features shrimp, shrimp and more shrimp – plus other menu selections, from great seafood and steaks to sandwiches, appetizers, and mouth-watering desserts – and a boatload of memorabilia from the Oscar-winning film, Forrest Gump.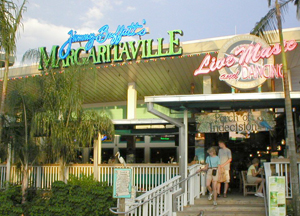 JIMMY BUFFET'S MARGARITAVILLE
Hours:
11:00a.m. to 12:00a.m.
Reservations:

For priority seating call 407-224-2155
Every corner of Margaritaville brings to life a different Jimmy Buffett classic. Its main dining room was inspired by one of Jimmy Buffett's favourite South Florida waterfront concerts, and its three bars — The Volcano Bar, Land Shark Bar, and 12 Volt Bar — were themed around Jimmy Buffett songs.

The menu features a unique combination of Key West and Caribbean foods known as "Floribbean Cuisine" and items indigenous to Florida, including conch fritters, and key lime pie. Live musical performances carry guests away with tunes ranging from island style to rock. The outdoor Lone Palm Airport features a full menu and bar under the wing of Jimmy Buffett's own seaplane, the Hemisphere Dancer.
Live entertainment nightly starting at 10:00pm with a $7.00 cover charge (includes tax).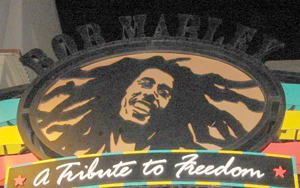 BOB MARLEY - A TRIBUTE TO FREEDOM
Hours:
4:30p.m. to 2:00a.m.
Reservations: 

For Priority Seating call 407 224-FOOD.
A one-of-a-kind celebration of music and culture, Bob Marley - A Tribute to Freedom is patterned after Marley's actual home in Kingston, Jamaica. It commemorates the international fame of the "King of Reggae", and takes guests on a musical journey of his life. Artifacts, photos, and video clips from his legendary career surround visitors in the open-air veranda and courtyard.

The cuisine features Jamaican-influenced appetizers, entrees and desserts. 
Cover is $7, tax included, between 8pm – 2am. 21 and older after 9pm.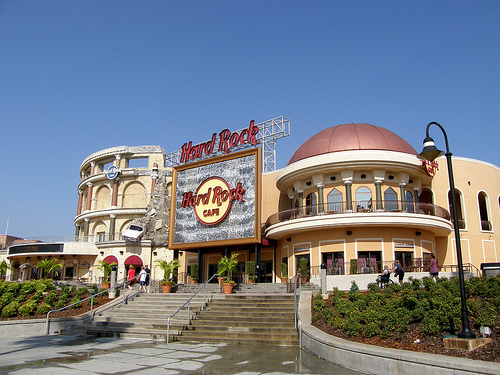 HARD ROCK CAFE

Hours:
11.00a.m. to late.
Reservations: 

For more information call 407-224-FOOD
Adjacent to the Hard Rock Live performance venue is the

world's largest Hard Rock Cafe

, decorated with the world's largest collection of rock 'n roll memorabilia. These include a 1959 pink Cadillac revolving over the bar and guitars and clothing from rock superstars such as

KISS, Elvis, The Beatles

and

Bob Dylan

.

The restaurant features

classic American cuisine

— burgers, marinated chicken breasts and barbeque ribs plus a full bar. Hard Rock

specialty merchandise

is for sale, including leather jackets, pins and t-shirts.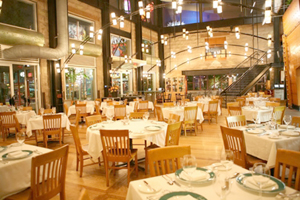 EMERIL'S
Hours: Open daily for lunch, 11:30am — 2pm, reopens 5:30pm - 10pm (11pm Fri & Sat).
Reservations: Reservations are suggested and can be made by calling 407-224-2424
This sophisticated eatery was created by noted chef Emeril Lagasse, star of the hit Food Network program "Emeril Live."

The restaurant's focal point is a bustling, open kitchen where you can watch chefs design their Creole-based gourmet creations, including Louisiana oyster stew, duck, and rib-eye steak.

The restaurant also boasts a full bar with a second-floor wine gallery featuring an open display of 12,000 bottles of wine, a cigar bar that features a wall-sized humidor and aperitif bar.
PAT O'BRIEN'S
Hours:
11.00a.m. to late.
Reservations: 

For more information call 407-224-FOOD
An authentic reproduction of New Orleans' favourite watering hole, Pat O'Brien's is the original home of duelling pianos, the "flaming fountain" patio, and the world-famous "Hurricane" specialty drink.

Cajun style appetizers, entrees, and desserts are served in the main bar, courtyard, and terrace level. Entrees include catfish fillets, jambalaya, shrimp creole, and wings.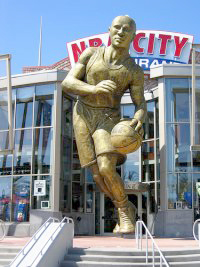 NBA CITY
Hours:
Opens 11am, Sun — Thur, last seating 10:30pm; Fri & Sat last seating 11.30p.m.
Reservations:
Call 407-363-5919
 for more information.
The dining area features video screens showing exclusive programming telling the great stories and rivalries of the NBA and WNBA. The restaurant features contemporary American cuisine such as burgers, pasta, oven-roasted pizzas, and a full bar.
Easy to find - just look for the larger than life statue of a basketball player dribbling a basketball!
NBA and WNBA fans will be impressed with this venue dedicated solely to basketball's historical moments. Exclusive programming of great stories and performances profiling the player's personalities.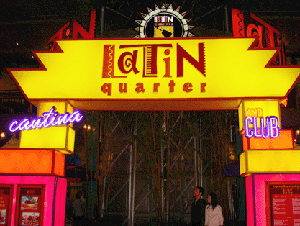 LATIN QUARTER
Hours: 5:00p.m. to 10:00a.m.
Reservations: No. Call 407-224-FOOD for more information
Enjoy the driving rhythms and mouth-watering delicacies of Central America, South America, Mexico, and the Caribbean.

A festive dining, dancing, and live entertainment experience, Latin Quarter offers authentic food, drink and entertainment from all 21 Latin American nations.

The unique decor, influenced by Aztec, Incan, and Mayan architecture, immerses guests in the culture and style of Latin America. Menu items include pork, black beans, yellow rice, plantains and flan, as well as a full bar.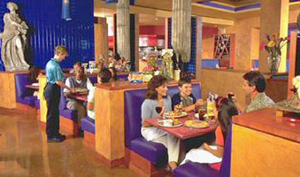 PASTAMORE
Hours: Marketplace open 8am for breakfast until Late Night. Pastamore open for dinner at 5pm.
Reservations: Call 407-224-FOOD for more information and reservations.
Pastamoré, a colourful family-style Italian eatery, provides numerous dining options. Select from the full-service restaurant offering a la carte or "family style" menu items or the Marketplace Cafe offering Mediterranean to-go delicacies.

The open-air kitchen enables guests to see chefs prepare mouth-watering dishes, such as oven-roasted pizzas, grilled chicken and steaks. The Marketplace Cafe features Mediterranean delicacies such as breakfast pastries, panini sandwiches, gelato, and Italian coffee.
Quickbites.......
Cinnabon - Fresh, hot out-of-the-oven cinnamon rolls. Enjoy the original Cinnabon plus Pecanbons, Minibons, Seattle's Best Coffee, and soft serve ice cream.
Starbucks Coffee - Specialty coffee, tea, and blended drinks. Bakery items and gourmet gifts.
WHOPPER Bar - Visit the world's first, only at Universal CityWalk, and enjoy the flame-broiled burger you love.  Moe's Southwest Grill - Get ready for giant burritos, cheesy quesadillas and flavorful salads prepared right before your eyes