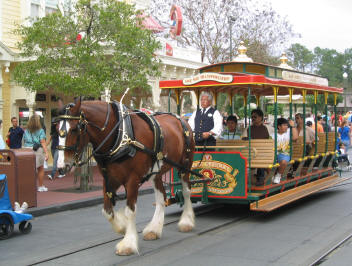 Catch a ride in Town Square or in front of Cinderella Castle near Central Plaza for your nostalgic one-way journey.  
Turn heads as you ride on a horse drawn tram, jitney, horseless carriages or a replica of a vintage fire engine.
All of these turn of the twentieth century vehicles are there for you to travel in style.
Type:

Various vehicles

Length:

Approx 3 minutes

 

 

No

Age:

Seniors, Adults, Teens, Children and pre-schoolers

Tips:

You can ride anytime of the say. NB The vehicles do not operate during parades or fireworks

 

Guests must be able to transfer from wheelchair/ECV to board the attraction