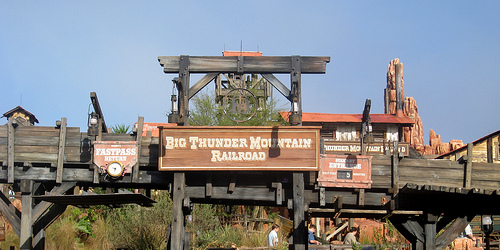 Hop on this rollicking mine train through an Old West mining town for a rip-roarin', rootin'-tootin' thrill-a-minute ride.
If you're "mining" for a good time consider the "prospects" as you're warned: "Hang on to your hats and glasses 'cause this here's the wildest ride in the wilderness."
Thrill seekers will prefer riding in the back of the train as it is more exciting than in the front. You really have to pay attention or you may miss the great scenery and attention paid to detail like the skeleton of the dinosaur built into the mountain. The thrills come from the perceived instability of the mine and it threat of collapse.
Riding at night gives you a whole new experience as you fly by the twinkling lights of the Magic Kingdom.
This attraction interacts with Pal Mickey
Type:

Rollercoaster

Length:

Approx 4 minutes

Child Swap:

Yes

Yes

Age:

Seniors, Adults, Teens, Children

Height Restrictions:

40" or taller

Tips:

As this is a very popular ride it is best first thing in the morning or towards the end of the day

Guests must be able to transfer from wheelchairs to board the attraction

· Expectant Mothers should not ride.

· Guests with back, neck or heart problems should not ride.

· May cause motion sickness