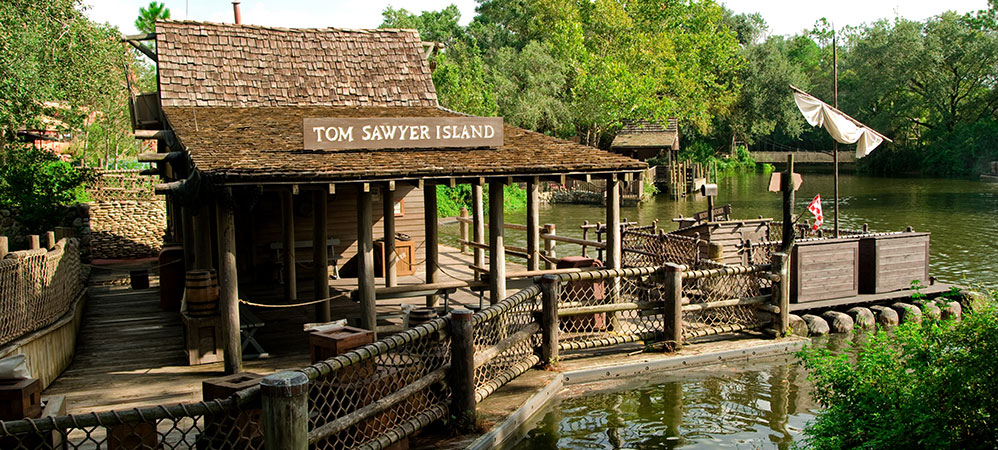 Tom Sawyer Island opened 1973 and is an outdoor playground in Frontierland where children of all ages can relive the rustic 19th-century adventures depicted in the novels of Mark Twain.
Board a motorized raft at the dockside to take you to the island.  Venture across the Rivers of America and dock at Tom's Landing to embark on your playful adventure.
You can shelter in a frontier fort built from unfinished timber and embark on playful adventures—just like Tom Sawyer and Huckleberry Finn. There are jewels hidden in mysterious caves, swinging suspension bridges, rugged trails and a whole isle to discover. 
Tom Sawyer Island is a large playground for kids, which stays open until dusk.
While little ones are playing, adults can sit in rocking chairs and play checkers, or explore the grounds with the working water wheel at Harper's Mill, follow the dirt paths and then rest on benches.
This attraction interacts with Pal Mickey
Type:

Play and explore

Age:

Adults, Teens, Children and pre-schoolers

 

·         Guests must transfer from ECVs to available wheelchairs to experience the attraction.

·         Tom Sawyer Island rafts are not recommended for Guests using ECVs.

·         To fully experience Tom Sawyer Island, Guests must negotiate stairs, bridges, steep inclines, and narrow caves.

·         As an alternative, Guests using wheelchairs are invited to take a round-trip raft ride to the dock. Guests can disembark at Tom Sawyer Island and wait there for their party.