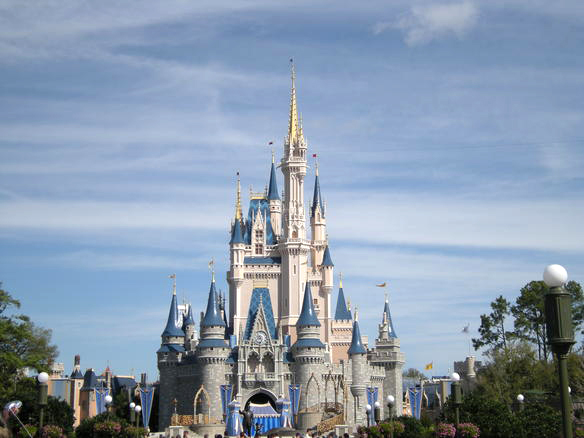 The majestic Cinderella's Castle is the center piece of the Magic Kingdom, with the entrances to the park's 7 lands radiating out from the Castle and can be seen as you are approaching from Seven Seas Lagoon
Cinderella's Castle is the tallest structure in the Magic Kingdom and is one of the theme park's original attractions when it opened its doors in 1971 and is 189 feet high and is made out of fibreglass.
The castle was modelled on a traditional French style chateau and features a moat and 18 towers, as well as 13 gargoyles.  There are a total of 27 towers on the castle, each numbered 1-29. Towers numbered 13 and 17 were deleted before construction when it was realized that they could not be seen from anywhere in the park.
Cinderella's Castle is also surrounded by a moat, which contains approximately 3.37 million gallons of water. 
Originally a space was designated for an apartment for Walt Disney's and his family, but sadly that was never completed because Walt died in 1966, five years before the theme park opened and the space was then turned into an office.
In 2007, as part of the "Year of a Million Dreams" promotion, random park guests were picked to spend a night in a new deluxe suite within Cinderella Castle.  The suite features three exquisitely decorated rooms, the Royal Bedchamber which has two queen sized beds with custom designed mahogany headboards, the Royal Bath and the Royal Salon.
In the castle's ground level hallway you can see glass mosaics depicting the Cinderella fairytale.
You will also find Bibbidi Bobbidi Boutique within the castle, this is where girls can have a princess makeover.
Cinderella Royal Table is also within the Castle and it located on the second floor of Cinderella's Castle and features stained glass windows and dozens of coats of arms on display. The Once Upon a Time character breakfast takes place daily and the elegant restaurant also serves lunch and dinner (reservations are required).
The Castle is also centre stage for Wishes Nightime Spectacular, a fantastic fireworks display that takes place on special nights at the Magic Kingdom.
| | |
| --- | --- |
|   | The Castle is wheelchair accessible. |