Height Requirement: Any Height
Category: Fun for Everyone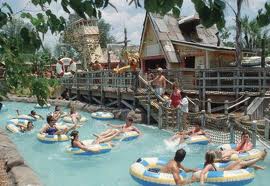 Guests of all ages can grab a raft and ease into the tropical retreat of this continuous flowing, 2,000-foot long, winding river that winds its way around the entire Water Park. Relax on an inner tube as your gentle journey takes you through cool mists and grottoes, lush rainforests and invigorating waterfalls.
Ride at your leisure and drift aimlessly along, or use Castaway Creek for effortless transportation to other areas of Disney's Typhoon Lagoon Water Park. There are 5 locations to enter and exit Castaway Creek.
Castaway Creek is located at ground level and rafts are included with the price of admission. Grab a raft just about anywhere along the creek's route to soak up the sun and go with the flow
.
Height Requirement: 48 inches (122cm) or taller
Category: Big kids, teens and adults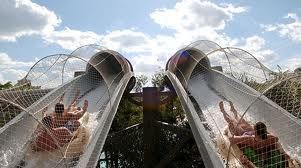 Defy gravity and discover surprise after surprise as gushing jets of water rush your raft through this white-knuckle thrill ride. Up to 3 Guests can ride at once, or you can take the plunge yourself!
Each of the 3 waterslides propels you approximately 400 feet through hairpin turns, sudden drops and gravity-defying uphill climbs for an exhilarating plunge into Hideaway Bay.
The attraction is themed around an abandoned tropical fruit processing center and has 3 fruit-themed slides: Banana Blaster, Coconut Crusher, and Pineapple Plunger.
The Coconut Crusher and Pineapple Plunger slides accommodate up to 3 riders in one raft. The Banana Blaster accommodates up to 2 riders per raft.
For Guests with disabilities an elevator is available if needed. Please ask a Cast Member for assistance. 
GANG PLANK FALLS
Height Requirement: Any Height
Category: Fun for Everyone
Get carried away aboard a giant inner tube with room for the whole family! Big kids, teens and adults can hop onboard and whoosh through caverns down a 300-foot long waterslide. Of the 3 Falls raft rides that include Keelhaul Falls and Mayday Falls, Gang Plank Falls is the medium intensity slide.
Enjoy the view on your crazy, curvy way down the mountain and watch for special effects and rock formations. This ride is dripping with fun so get ready to laugh your rafts off!
Each raft accommodates 4 Guests. If you have fewer than 4 people in your party, you may be asked to ride with other Guests. 
HUMUNGA KOWABUNGA
Height Requirement: 48 inches (122cm) or taller
Category: Big kids, teens, adults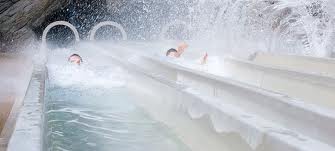 Are you brave enough to take a plunge down a near-vertical, 5-story waterslide? How about in the dark?
Seize your courage and shoot almost straight down Mount Mayday in any of 3 side-by-side, 214-foot long enclosed speed slides. You won't see where you're going as you zip downhill in the dark, drop 5 stories in seconds then splash down to a surprise ending. Drop in if you dare! 
KEELHAUL FALLS
Height Requirement: Any Height
Category: Big kids, teens, adults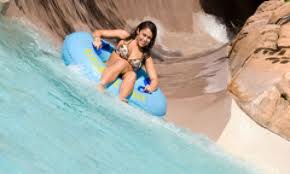 Take a tropical whitewater adventure on a scenic, palm-lined course down Mount Mayday. Grab your single-rider inner tube and get ready for a curvy waterslide through caverns and waterfalls before splashing down in a refreshing pool at the bottom. Look for some surprises along the way down the mountain! 
KETCHAKIDDEE CREEK
Height Requirement: 48 inches (122cm) or shorter
Category: Little kids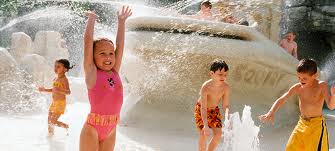 Ketchakiddee Creek at Disney's Typhoon Lagoon Water Park offers tots their own watery play area. Ten different activity areas with fun water features and kid-sized slides make this a perfect place to play for little ones who are less than 48 inches tall. Romp around this children's water activity area full of sloshy, small scale slides, fun-filled fountains, watery whales, slippery seals, crawl tubes, waterfalls, a leaky tugboat and a mini ripply-rapids ride. There are 10 different activity areas with tons of fun for little ones. 
MAYDAY FALLS
Height Requirement: Any Height
Category: Big kids, teens, adults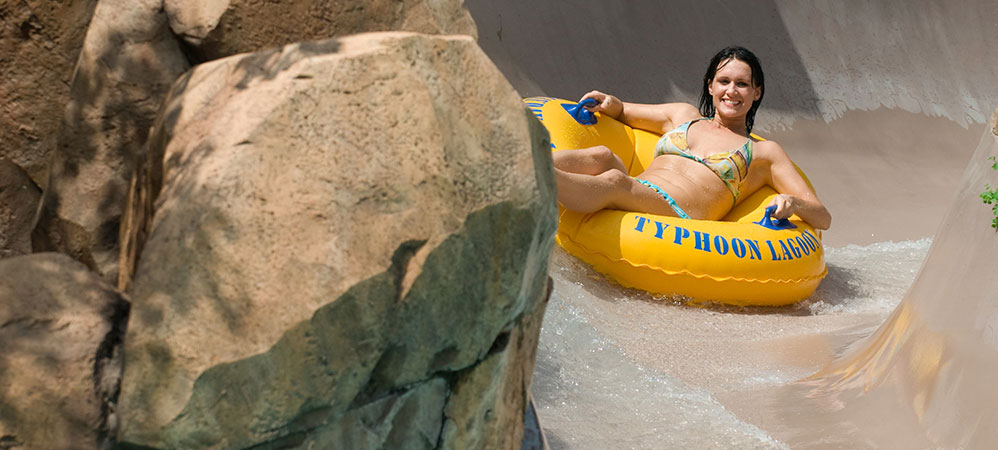 Brave the rapids for a fast, turbulent trip down Mount Mayday that begins in the shadow of the iconic stranded shrimp boat, "Miss Tilly." Big kids, teens and adults, grab your single-rider inner tube and careen down this swervy, curvy waterslide through caves and waterfalls.
Mayday Falls is the longest waterslide in Disney's Typhoon Lagoon Water Park, and the highest and most intense waterslide of the 3 Falls raft rides. Hang on 'cause this one's a rush! 
SHARK REEF
Height Requirement: Any Height
Category: Big kids, teens, adults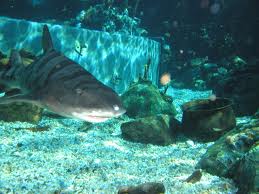 Enter a captivating underwater world and see some incredible saltwater sea life up-close. Swim freely with leopard and bonnethead sharks, stingrays and schools of colorful tropical fish in this fascinating coral reef environment.
The reef surrounds an overturned sunken tanker. Less adventurous Guests, or anyone who just wants to get a spectacular view of the sharks without getting wet, can enter the tanker and view the undersea creatures through the portholes.
All the equipment you need to swim in the Shark Reef tank including snorkels, masks and lifejackets is provided at no additional charge. Children under age 10 must be accompanied by an adult.
If you would like to spend even more time exploring the waters of Shark Reef, you can extend your experience using tanks. Visit Hammer Head Fred's Dive Shop and ask about the SAS (Supplied Air Snorkeling) system. This equipment is available at an addtional charge. 
STORM SLIDES
Height Requirement: Any Height
Category: Big kids, teens, adults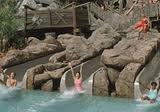 Plunge down these winding waterways for a wild ride and a watery splash down! Each of the high-octane body slides zips you down 3 stories through caves, waterfalls and geysers then drops you into an invigorating pool at the bottom.
This tangled trio of twisting waterslides offers waves of excitement with 3 different body slides to choose from: Jib Jammer, Stern Burner, Rudder Buster. 
SURF POOL
Height Requirement: Any Height
Category: All ages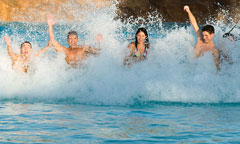 Take a dip in the azure blue waters of one of the world's largest wave pools. The surf's up all day long so you're sure to catch a wave! Whether you're a body-surfing enthusiast or you just want to play in the bobbing waves near the shore, the Surf Pool offers something for everyone.
Relax and listen to the surf as you lounge on white-sand beaches. Play in the gentle waters away from the action near the shore. Dive right into the excitement where the waves originate away from the shore.