ATTRACTION:
The Florida Aquarium.
WHERE:
701 Channelside Drive
, Tampa, Florida 33602
.
PRICE:
Adults $19.95. Seniors aged 60 plus $16.95. Children 12 and under $14.95. Children two and under are admitted free of charge. Parking $5.
ADDITIONAL INFORMATION:
Open daily 9.30am until 5pm. Closed Thanksgiving and Christmas Day. Telephone
(813) 273-4000
The aquarium is fully accessible to the disabled, and limited parking for the disabled is offered on-site, on a first-come, first-served basis. Wheelchairs are available for checkout on a first-come, first-served basis with appropriate identification and a credit card.

The Florida Aquarium tells Florida's unique water story as it follows a drop of water from its underground source to the open sea. Begin your journey in Wetlands with free-flighted birds, alligators and river otters!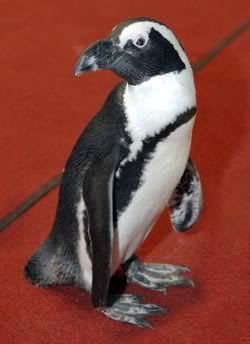 The Florida Aquarium has a unique opportunity for guests to come face-to-beak with African Black-footed penguins! The penguins come out to meet and greet guests during daily Penguin Promenades. In this 'no borders, no barriers' experience, guests become a part of the exhibit and provide a natural boundary for the penguins to get up close and personal. Shoelaces and bracelets can become their new favourite toy! Check for show times upon your arrival.
Behind the Scenes Penguin Encounter: The African Black-Footed Penguin Encounter is a new 30-minute Behind the Scenes experience giving guests get the opportunity to interact with two penguins in an up-close and personal setting. Led by an experienced penguin biologist, a typical visit may include a chance to touch the penguins, see them waddle, swim, shake their tails and jump in and out of their interaction pool. While there, a biologist will describe these remarkable birds and their specialized care. Guests will even have the opportunity to feed a penguin! These South African Birds live in a temperate environment in the "Penguin Suite" so no coats are needed.
Age
– 6 and up, ages 6-11 must be accompanied by paying adult;
Time
– approximately 30 minutes, two times per day, 1:00 & 2:30 p.m.
Reserve at Guest Services
Cost
– $25 per person, $20 for members
Maximum 8 people per session
Behind the Scenes Tour
:
This 1-hour tour includes a unique look into how the food is prepared for the animals. See the top of the largest tank along with the quarantine areas, and meet a special animal up-close.
Age
– Recommended for ages 5 and older.
Time
-12.30pm and 2.30pm daily except Tuesdays and Thursdays.
Cost
– $10 per person.
Shark Feeding Behind the Scenes Tour
:
Experience the life of a shark biologist! Help prepare the shark's favourite food and try to feed 3 fish to a shark while learning about these amazing animals, how they are cared for and what threatens wild populations. This two-hour program includes admission, a special "I Fed the Sharks!" apron, and the special feeding opportunity.
Age
– Participants must be at least 12 years old.
Time
– Tuesdays and Sundays only. Reservations are required…..call 813 273 4015
Cost
– $50 per person
Dive with the Sharks: Provides a unique opportunity for certified SCUBA divers, age 15 and older, to come face-to-face with live sharks! Splashing down in Shark Bay is the perfect dive; warm clear water, teaming with sharks from around the world and no boat ride! All of your gear for this experience of a lifetime is provided. The Dive with the Sharks program makes you the star of the show and dispels the commonly held myth that sharks are man-eaters. Shark Bay is a 93,000-gallon saltwater exhibit home to shark species and sea turtles from around the world! Imagine diving where the water remains a constant 76 degrees with crystal clear visibility and no current or surge!
A maximum of two guests per dive assures an intimate and unforgettable experience! The program is approximately 90 minutes including an educational presentation about sharks and a 30-minute dive in the Shark Bay exhibit. The divers will exit the shark cage with an aquarium dive master and position themselves on the bottom of the exhibit in front of the exhibit window for optimal viewing of the sharks. Family and friends can view the divers during all phases of the dive from the Sea Hunt gallery. The Florida Aquarium dive master reserves the right to deny any guest diver the opportunity to leave the shark cage if the safety of the guest diver or the animals in the exhibit are in jeopardy.
$150 per person includes aquarium admission for the diver, a shark diver hat and a photograph of the diver during the experience. Additional photos taken underwater during your experience will be available for purchase. Bring a mask, bathing suit, towel and dive certification card. Shark Dives daily. Check for availability.
Advanced reservations are required. Call 813.273.4015 for more information.
Swim with the Fishes: An in-water reef adventure that gives you the opportunity to encounter one
of the Florida Keys' most beautiful coral reef dive sites without being a certified SCUBA diver. During this introduction to diving, you'll wear a small SCUBA tank, regulator and floatation device that keeps you on the surface. This allows you to experience the thrill of SCUBA diving from the surface, while enjoying all of the sights 2,300 fish have to offer.
The Coral Reef Gallery simulates an actual reef in the Dry Tortugas near Key West, Florida. During your swim, you become the main attraction in a large exhibit with more than 2,300 aquatic animals! This manmade reef is home to a vibrant community of fish including moray eels, grouper and tarpon! While you get up close and personal with the fishes, friends and family can watch from the dry side of our 42-foot wide panoramic window!
Participants must be at least 6-years-old and be comfortable in the water. Children under 9-years-old must have a paying in-water parent or guardian participate. No previous training or experience is necessary.
$85 per person, which includes aquarium admission for participant. You will need a towel, a bathing suit and a sense of adventure! Swim with the Fishes is offered daily.
Check for availability on 813 273 4015.
Wild Dolphin Eco Tours: Tampa Bay is home to more than 500 bottlenose dolphins and is one of the best places in Florida to view endangered manatees and numerous species of birds, many of which are threatened or endangered. All of this wildlife thrives in a working, deepwater port, one of the busiest in the Southern United States.
The 90-minute journey through the bay aboard The Bay Spirit, a 49-foot powered catamaran, allows guests to encounter the awesome animals that thrive in these local waters. The only requirement is a sense of adventure. A good pair of binoculars is optional!
Daily Ecotours leave the Aquarium at 2 (weather permitting) with additional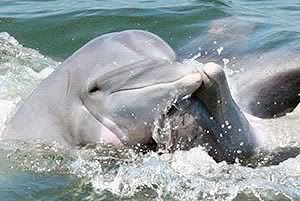 tours on Saturdays (noon, 2pm and 4 pm) and Sundays (2pm and 4 pm) and cost $21.95 for adults and $17 for children between the ages of 3 and 11. Seniors 60 and up are $19.95 and children 2 and under are free. Call 813-273-4000 to check on times and availability. Limited access – Passenger must be able to transfer to the boat deck. Limited capacity – 49 passengers per tour.