Explore Tinker Bell's Magical Nook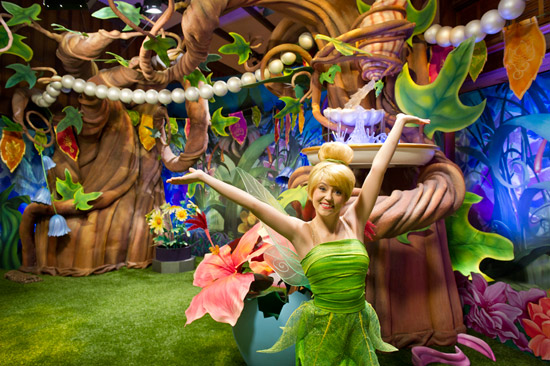 The Nook is a new character meet-and-greet area created by Tink and her friends, who brought a cutting from the Home Tree in Pixie Hollow and planted it here in Adventureland. The cutting took root and – with a little pixie dust – grew to become a place that's nothing short of magical.
Take a step inside and you'll queue through an area lined with pictures that celebrate the gang's favorite pixie pals and places. Be sure to look for a picture of the Home Tree here, which transforms to reveal different images of Tinker Bell and friends. 
Next, you'll head through a porthole of glittering grass that shrinks you down to fairy size, then into an area that's filled with flowers, trees and leaves – not to mention a few "lost" items the fairies have collected from the human world, including a full-size tea cup.
Tinker Bell will regularly greet guests here, and help them discover their inner fairy talent. One of Miss Bell's friends, Vidia, Rosetta, Silvermist, Fawn, Iridessa, and Terrence also may stop by to join in on the fun. 
For the most up-to-date information on Tinker Bell's Magical Nook visiting times, pick up a Magic Kingdom Park Times Guide at the theme park entrance.