Disney Fantasy Upper Decks a Splashing Delight for Kids and Comfort Retreat for Adults
An array of wet and wonderful new surprises help guests cool off as they enjoy soaking up the sun aboard the Disney Fantasy, Disney Cruise Line's newest ship scheduled to set sail in March 2012.
 
AquaLab Debuts on the Disney Fantasy
On the Disney Fantasy, guests can splash and play in the AquaLab – a brand-new water play area on deck 12, near the entrance to the AquaDuck water coaster. Families can frolic among pop jets, geysers and bubblers in this fun and fanciful 1,800-square-foot space. As the story goes, AquaLab was created by Donald Duck's nephews, Huey, Dewey and Louie, and features a variety of water "experiments" designed to drench the whole family.
Children entering the AquaLab will see that the nephews are away for the time being, leaving the young cruise guests in charge of the AquaLab. Through hand-painted notes left by the nephews, kids are put in charge of the AquaDuck water coaster. By turning wheels and moving levers at three wacky aqua stations kids "control" the speed and temperature of AquaDuck.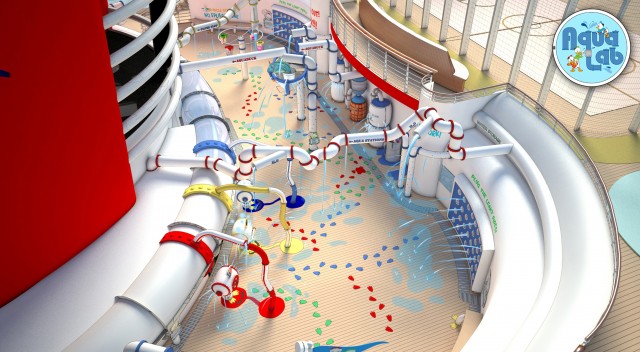 At a leaky wall, the water fun is all hands on deck as kids try to keep the water circulating by covering holes in squirting and spurting pipes with their hands. In another area, kids scramble to stop leaky pipes from filling Uncle Donald's row boat with water. Water leaks and sprays from the Ducky Dinghy, suspended overhead, and as the boat fills a fish pops his head out of a bucket while everyone gets delightfully drenched
.
More information can be found here