Katsura Grill Now Open at Epcot's Japan Pavilion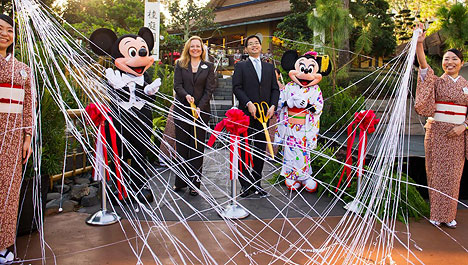 Katsura Grill at the Japanese Pavillion in Epcot's World Showcase has now officially opened.
Mickey and Minnie were joined in the gardens by Erin Youngs, vice president of Epcot and Hideaki Morooks, general manager International Business Operations for Isetan Mitsukoshi Holdings Ltd., partners with Disney in the Japan Pavilion. The gardens have been inspired by the strolling gardens at the historic Katsura Imperial Villa near Kyoto, Japan.
Early morning tempura, sushi and sake where among the dishes served in a ceremonial cedar cup as part of the festivities.