ATTRACTION: Medieval Times Dinner Show.
WHERE: 4510 West Irlo Bronson Highway, Kissimmee, FL 34746
AGE RESTRICTIONS: None.
PRICE: Adults $59.95. Children aged 3 to 11, $34.95. Children under 3 years old admitted free as long as they sit on adults' laps and eat from their plate. If you prefer the child to have his or her own seat and meal then the child rate would apply. Prices do not include tax. Purchase tickets
HERE
ADDITIONAL INFORMATION: Tel: 407-396-1518. Show length approximately 120 minutes. Seating at the Castle is limited and reservations are strongly recommended. Castle opens 90 minutes prior to show time. Dress code is casual.
There's a reason Medieval Times is the No. 1 dinner attraction in North America.  Their unique combination of a medieval banquet and thrilling competition between knights captures the imaginations of all ages.
Medieval Times is an exciting, family-friendly dinner attraction inspired by an 11th century feast and tournament. Guests are served a four-course banquet and cheer for one of six knightscompeting in the joust and other tests of skill.
Expect almost two hours of jousting, swordsmanship, thrilling hand-to-hand combat, displays of extraordinary horsemanship and falconry as part of an exciting yet touching story set in Medieval Spain.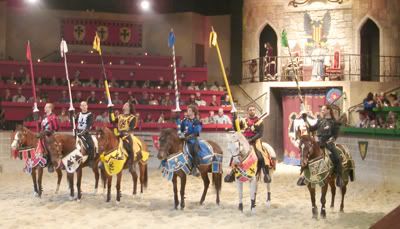 The journey begins as visitors are greeted by King Alfonso and the Princess Esperanza for the pre-show. All guests receive a coloured crown corresponding to the area of the arena they will be seated in and the Knight they are cheering for.
The Master of Ceremonies orders the Trumpeters to announce the opening of the Grand Ceremonial Arena and guests proceed to their colour-coded seats to begin the feast and festivities. As the Trumpeters sound the entrance of  King Alfonso and his daughter, guests await at long tables for a glorious feast fit for a royal family. The servers come in to serve a plate of  hot food worthy of the king and all his subjects.
The 4-course feast is served by  highly trained staff of wenches and serfs, rolling out your dinner with expert timing. And this feast is served "medieval style". That means there is no silverware. But don't worry, there are napkins galore.
Tasty warm garlic bread
Hot soup served in authentic pewter bowls
Slow roasted farm fresh chicken
                                                                          Barbecued spare ribs
 A lightly seasoned baked potato
 Dessert pastry of the royal family choosing
2 rounds of beverages are included free with the feast. If that's not enough to drink, a cash bar is also available throughout the show. Vegetarian meals are available upon request.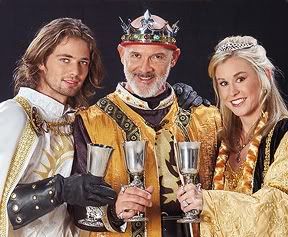 While the feast is being delivered, the legend of the kingdom unfolds in the arena. The show has all the action, intrigue and pageantry that guests look forward to and there's a wonderful twist – the love of a princess for her handsome Knight. You also witness the showdown between a traitorous warrior and a surprise noble defender of the crown.
The competition is fierce as the six brave Knights compete in a tournament for the rights to the princess. You'll cheer on your knight in the flag toss, ring pierce and javelin thrown. All of these games of skill are designed to prepare the knights for the final challenge – the Joust. Full armour is the look of the night as each warrior mounts his magnificent Andalusian horse and they charge at each other wielding 10-foot lances.
Once knocked from their horse, the Knights continue their battles on foot.  In a shower of sparks and a clanging of steel, eventually only one brave Knight remains to claim the title of New Champion.
After the show, the adventure continues for guests who visit The Knight Club. This hip dance club area has a full bar, lively music and a dance floor. This is where you'll meet the Royal family and pose for pictures. Suits of armour, highly detailed swords and shields and medieval banners line the walls as you dance away you final hour in the theatre.
Some of the most talented Medieval Times Dinner & Tournament cast members are the horses. They raise nearly all of their 400+ horses at Medieval Times' Chapel Creek Ranch in Sanger, Texas.
Opened in 1991, the 241-acre ranch in North Texas is home to Quarter Horses, Friesians and Menorcans, as well as the purebred Spanish Andalusians they breed. The Andalusian was prized by medieval royalty for its astonishing strength, agility and even temperament.
Training begins early. As weanlings, Medieval Times horses are introduced to lead ropes and
halters. Saddles come at age 2. Long reigns and simple exercises such as lunging follow. At age 3, the horses move to their new homes -one of the nine North American castles where they learn advanced-level dressage from a master horse trainer. Then life as a pampered performer begins.
After a few years in the spotlight, the Medieval Times horses move back to the Chapel Creek Ranch. In a serene setting, the horses live out their lives in royal treatment.
Ticket Packages
Upgrade the Experience

King's Royalty Package (over $40 retail value plus premium seating)
VIP first-row, all sections or second-row, center section seating

Framed group entrance photo

"Behind the Scenes" DVD

Commemorative program

Knights cheering banner
Add this package for only $20 additional per person.
Royalty Package (over $20 retail value)
Preferred seating in the second and third rows

Knights cheering banner

"Behind the Scenes" Medieval Times DVD

Commemorative program
Add this package for only $10 additional per person.
Celebration Package (over $40 retail value)
Preferred seating in the second or third row

Slice of cake

Framed group photo

"Behind the Scenes" DVD

Commemorative program

Knights cheering banner
Add this package for only $16 additional per person.