ATTRACTION: Gatorland.
WHERE: 14501 South Orange Blossom Trail, Orlando, FL 32837
AGE RESTRICTIONS: None.
PRICE: $22.99 for adults aged 13 and up, $14.99 children ages 3—12. Under 3 year olds are admitted free.
ADDITIONAL INFORMATION: 9am until 5pm seven days a week. Phone 1-800-393-5297
***print out a money saving coupon here HERE
 RENTALS:
Single stroller $7
Double stroller $10
Wheelchair $10
Electric wheelchair $20
Prices do not include tax
Gatorland is a one-of-a-kind,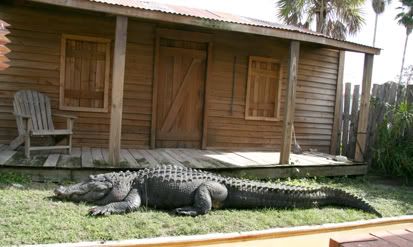 protected habitat for man and beast where adventures lurk around every corner! Internationally known as the Alligator Capital of the World, Gatorland's 110-acre theme park and nature conservatory is located in Central Florida at the head of the Florida Everglades. Once you have experienced Gatorland, it will be hard to believe that it began in 1949 as a roadside attraction!
 ALLIGATOR ISLAND, located in the northern section of Gatorland's "Gator Lake", is home to the largest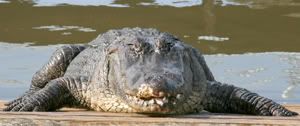 reptiles in the park. Hundreds of alligators inhabit "Gator Lake", and Alligator Island is the best place to see Gatorland's largest alligators and crocodiles up close and personal as they soak up the Florida sun. You might even get a chance to see Alf, a gigantic American Crocodile over 15 feet in length. Weighing over 1,000 pounds, Alf is Gatorlands largest reptile, and a favourite amongst Gatorland's visitors and staff.
The central feature of Alligator Island is a large palm tree which not only provides shade to the gators and crocs, but also is home to several species of native Florida Birds. Greater Egret, Snowy Egret, and Florida Grackals make their nests in this large tree. During the alligator's breeding season, several female alligators will also make their nests on the island.
Alligator Island is also home to several thousand Mexican Free-Tail Bats, which live in a specially designed "bat house" on the island. Only venturing out at night, the bats consume vast quantities of insects before returning to their "bat house" to sleep during the day.
THE BREEDING MARSH was created in 1991 as a natural breeding area for Gatorland's gators, the 10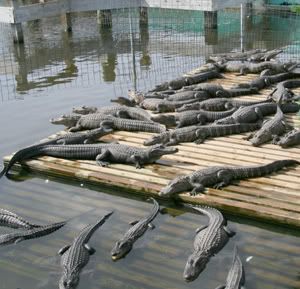 acre Gatorland Breeding Marsh contains 130 adult alligators… 100 females and 30 males. Living their lives in a completely natural environment, these alligators produce the next generation of Gatorland's namesake reptiles. A 3 story observation tower and raised wooden walkways allow visitors an unprecedented view of not only alligators, but also many different species of native Florida birds.
ALLIE'S BARNYARD is the place to say hello to some of the cute and cuddly barnyard critters that call Gatorland home. Say hello to Gracie, a friendly goat who just loves to eat from your hand, and Harley the macaw who just might say hello back! At Allie's Barnyard you'll find all sorts of critters, from chickens and ducks to deer, sheep, and goats, all playful and looking for a little attention.
Feeding cones are also available for a nominal charge. There's nothing like a little snack to help make new friends amongst the animal gang at Allie's Barnyard!
THE AVIARY is home to the colourful and friendly Lorikeets, and is a great place to get up-close to nature. These brightly coloured parrots, native to the Western Pacific and East Indies area, are specially adapted to a diet of pollen, nectar, and fruit. This diet has led to the development of a specialized tongue with a brush-like structure at the tip for gathering pollen and nectar, as well as a more slender bill for probing into flowers.
Lorikeets just love people, especially those with a small cup of nectar. Open several times daily during regularly scheduled feeding times, visitors can enter the Aviary for a more intimate experience with the birds. Small cups of nectar to feed the Lorikeets are available for a nominal charge. Paper towels are also available for those who may experience a very personal Lorikeet encounter!
SNAKES OF FLORIDA Most people have a fascination with snakes, with many individuals having a deathly fear of them. The fact is, snakes are basically misunderstood reptiles that have gotten a bad reputation, and they play a very important role in the environment. Florida has many different varieties of snakes, most of which are completely harmless to human beings. However, Florida is home to several species of venomous snakes, most of which you can see within the Snakes of Florida exhibit at Gatorland.
With strike proof glass providing a safe barrier, you can view the mighty Eastern Diamondback Rattlesnake, the largest venomous snake found in Florida. Also on display is the Cottonmouth Water Moccasin, the only venomous water snake in Florida. Look closely at the brightly coloured Coral Snake and learn how to distinguish it from its non-venomous cousin, the Scarlet King Snake. Many more snakes are on display, and for those of you with a strong snake aversion, there is a separate walkway with a hedge divider so that you can safely travel without getting close to the slithering serpents!
SHOWS:
THE GATOR JUMPAROO SHOW: Thrills and chills abound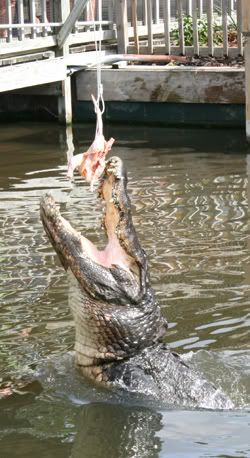 as some of the largest alligators in the world actually jump four to five feet out of the water to retrieve food in this famous one-of-a-kind show. Learn more about alligators and crocodiles and their awesome powers. Watch as giant alligators jump high enough out of the water to actually snatch food from the trainer's hand. A must see for the entire family!
GATOR WRESTLING: Gatorland offers a unique alligator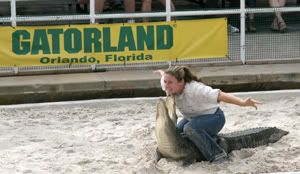 wrestling show done "Florida Cracker" style in a shaded 800 seat stadium. Gator wranglers catch a 6 to 8 foot alligator by hand and climb onto the snapping animal's back to point out survival features to the audience. After doing stunts that only a few are brave (or foolish) enough to try, the alligator is rolled over and put to sleep…only to be awakened by a tickle!
TRAINER FOR A DAY
:
An experience you will not forget! The Trainer for a Day program will give you a glimpse into what it takes to be able to work with and around dangerous animals. The day starts with an introductory course that includes safety procedures, handling exercises and basic behavioural animal training. Now it's time for a hands-on training session with one of the reptile experts. This up-close interaction includes a chance to learn all about crocodilians and an opportunity to test your skills at croc wrangling! Experience may range from moving large alligators and crocodiles to assisting a reptile trainer in daily activities. So be sure to prepare for the
unexpected when completing this Gatorland exclusive package.

Fee
: $125.00

Age
: Must be at least 12 years of age.

Tour Length
: 2 hours (tour starts at 8:00am)

Apparel
: Wear clothes you don't mind getting dirty, sunglasses, sneakers or hiking boots. Nothing extremely baggy.

Number of people
: Minimum 1, maximum 5.
Advanced reservations required. Gatorland admission is included for the tour participant. A discount of 20% will be offered for up to 6 people in the party. Food and beverages not included.
UP CLOSE ENCOUNTERS: You never know what kind of animal you might be introduced to next at the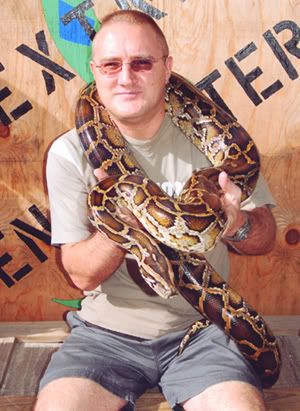 Up-close Encounters Show! You'll get to meet fascinating creatures from around the globe as well as Florida's native wildlife – including some of the most dangerous snakes alive.
GATOR NIGHT SHINE
:
Your Gator Night Shine adventure takes you deep into the domain of Florida's most famous reptile, the alligator! Armed with only a flashlight and a few hot dogs, you bravely make your way along the winding wooden walkways of Gatorland's Alligator Breeding Marsh. The sounds of the night come alive around you as the rustle of feathers overhead and the splashing of water nearby signal that you are not alone. Turning your flashlight towards the water, you suddenly become aware of the hundreds of hungry, glowing, red eyes slowly making their way closer… it's now your turn to experience the "Real Florida." A fun and educational tour for kids of all ages, Gatorland's Gator Night Shine Tour is one swamp adventure you don't want to miss!
Admission Policy: This guided tour is an after-hours special Gatorland event and is restricted to Gatorland's Breeding Marsh. Gatorland will provide the flashlights, insect repellent, and some alligator food.
Tour Length:  60 to 90 minutes beginning at dusk. Advanced reservations required. Call 1-800-393-JAWS to book your tour. 
Fee: $19.99, plus tax. Children under 3 are free.
ROOKIE WRESTLING
:
Tired of riding the high-tech entertainment rides of area theme parks? Try
this one on for size… Step onto the sand at the world famous Gator Wrestlin' Arena and feel the power of one of the most feared creatures in the world. Eight to nine feet in length, 82 razor sharp teeth, and that is just one of the twelve
alligators swimming around you!

 



Fee
: $10.00 for the experience, photographs are available for an additional fee.
ADVENTURE HOUR
:
How close is too close? This area is closed to the public except for those
who take part in this daring trip into the swamp. Venture into the Gatorland Breeding Marsh for this behind-the-scenes tour. Home to hundreds of alligators, you'll have the opportunity to feed them and pose for photos! Tour offered
daily. Reservations required.

Adult or Child
: $10.00