ATTRACTION: Arabian Nights Dinner Show. 
WHERE: 3081  Arabian Nights Blvd, Kissimmee, FL 34747 
AGE RESTRICTIONS: None. 
PRICE: Adults $63.99. Children aged 3 to 11, $40.00. Children under 3 years old admitted free. Prices include tax. Prices are from Arabian Nights direct.
ADDITIONAL INFORMATION: Tel: 407 239 9223. Show length approximately 90 minutes.
**VIP Admission includes one souvenir poster per two guests, a free drink of either Budweiser beer, wine, or Pepsi product in the VIP lounge, priority seating in the first three rows, and a special opportunity to meet the horses and riders prior to the show.
TIP: Entrance is free with the purchase of a Go Orlando 3, 5 & 7 day card. Also, less expensive tickets are available online with various ticket sellers.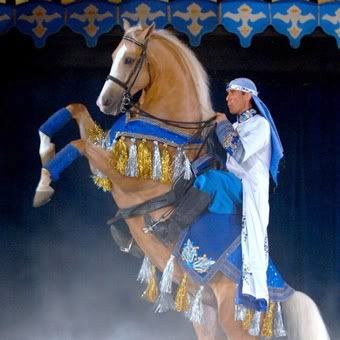 Arabian Nights is a dinner show that brings a fairytale to life on horseback. Beautiful horses from around the world are showcased in the world's largest indoor equestrian arena. The show captures your attention the moment the black stallion enters the palace to the climatic conclusion of the tale.
As a guest of Arabian Nights you are invited to attend the wedding of a Princess and Prince who summon the magical power of the Black Stallion. Arabian Nights' bountiful wedding feast includes a fresh garden salad; your choice of prime rib beef, grilled chicken breast, Certified Black Angus chopped steak with gravy, vegetable lasagne, or chicken tenders; dessert and unlimited house beer, wine, and soda.
With seating for up to 1200, it is known as the world's largest indoor Equestrian Arena. Arabian Nights beckons both Central Floridians as well as tourists from around the globe into it's 140,000 square foot facility. Voted the four-time winner of Orlando's #1 Dinner Attraction, Arabian Nights has entertained millions of visitors since it's opening in 1988.
Showcasing the talents of 40 performers and 60 prized horses with darin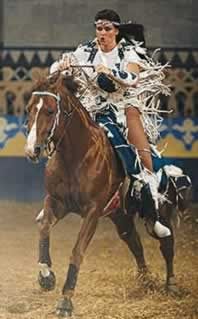 g stunts and remarkable horsemanship within a magical, romantic story. The number of costume changes here surpasses even the most complex Broadway show.
Prior to the show, as guests arrive at Arabian Nights Dinner Theater, they are invited into the Great Hall to enjoy pre-show entertainment. There they may meet some of the stars of the show or listen to the live music.
As you enter the Great Hall, family photos are taken with the themed background. Near the end of the show, the souvenir photos and photo key-chains are brought to your table, where you can choose to purchase them. The gift shop has a large selection of horse figures, cards, jewellery and many show mementos.
A showcase of talented riders and beautiful horses from around the world partake in the adventures. Each event is designed to demonstrate the great skill of the performers and the immense training and ability of the prized horses. Different acts include:
· A Chariot Race from ancient Rome
· Square dancing Cowboys and Native Americans
· Gypsies offering daredevil stunts in a circus-like atmosphere
**Starting mid-November and running through January 1st, Arabian Nights Dinner Theater in Kissimmee adds a new storyline with a festive winter theme.
The colorful Arabian Nights Holiday Show finds Princess Scheherazade in need of a distraction while her husband, Prince Khalid is off searching the globe for the perfect Holiday gift for his new wife. The always-faithful genie Hocus Pocus invites a new friend, Santa Claus to come distract Scheherazade from missing her husband with gifts and good cheer.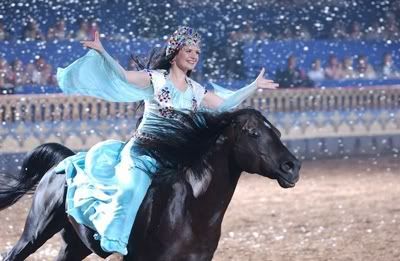 Hocus Pocus does even more to lighten the Princess' mood, bringing each of Santa's gifts to life in the magical Palace of Horses. In this dazzling show, the 60 Arabian Nights horses and 40 talented performers are joined by spectacular pyrotechnics, snow, special sets; including four incredible 25 foot Christmas trees, and breathtaking costumes.
Santa and Hocus put on quite a show for the Princess, bringing to life a variety of gifts including Toy Soldiers, Mystical Unicorn, and a Winter Wonderland Snow Globe! Santa's Reindeer, Horse-riding Elves, Gingerbread men and Sugarplum Fairies are just a few of the astounding guests who stop by to bring the Princess some Holiday Cheer!