ATTRACTION: Archery.
WHERE: Disney's Ft. Wilderness Bike Barn.
AGE RESTRICTIONS: 6 years old and up.
PRICE: $25 plus tax per person.
ADDITIONAL INFORMATION: Call 407-939-7529 to book. Available Thursday, Friday, Saturday from 2.45pm.  Please allow ample transportation time. Ft. Wilderness prohibits vehicles from going beyond their main entrance. You'll need to use their internal bus or take water transportation from either the Magic Kingdom or Wilderness Lodge.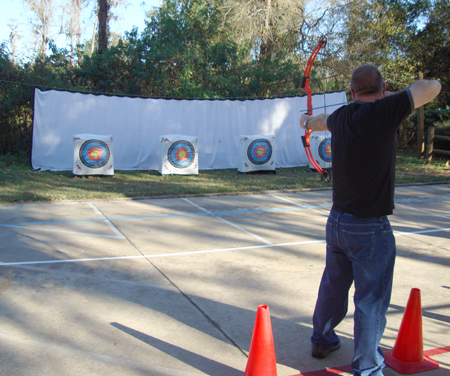 Did you know you can try your hand (or hands) at archery during your vacation to Walt Disney World?  It's true!  In July, Disney introduced the Archery Experience at Disney's Fort Wilderness Resort and Campgrounds.  It's a 90-minute activity that includes all of the equipment that you need as well as instruction.
Following instructions in the use of a Compound Bow, you'll take aim at the Bullsye in the Range target.
READY – AIM – ARCHERY It takes a steady hand to land that bull's-eye at the Fort Wilderness Archery Experience. Archery Guides lead Guests through a short training session on how to hold a compound bow and release an arrow into a range target. They offer tips and tricks to participants ages 6 and up as they try to hit that coveted bull's-eye during target shooting.