ATTRACTION: Boat Rental.
WHERE: Captain Jack's Marina, Downtown Disney.
AGE RESTRICTIONS: When renting watercraft you must be 18 or over and present either a Walt Disney World Resort ID or valid driver's license.
PRICE: See below.
ADDITIONAL INFORMATION: Reservations can be made by calling 407-WDW-PLAY, by touching 57 on a Walt Disney Resort phone or at the marina.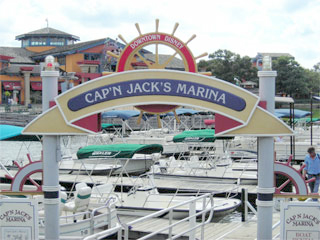 A wide variety of watercraft can be rented here by the ½ hour and by the hour.
Cruise around the lake at your own speed and take in some of the sights of Downtown Disney and some of the resorts.
To rent a boat here, you must present a Walt Disney World Resort Identification Card, passport, or valid driver's license
Sea Raycer by Sea Ray    2 guests max
23.47 per 30 min.
32.86 per 45 min.
37.55 per 60 min
 
17′ Boston Whaler Montauk    6 guests max   33.80 per 30 min
21′ Sun Tracker Pontoon Boat    10 guests max   39.43 per 30 min