ATTRACTION: Beach.
WHERE: Cocoa Beach.
Cocoa Beach, Orlando's closest beach, is located about 60 miles east of Orlando in the heart of the Space Coast of Florida.  Cocoa Beach offers you the perfect opportunity to relax on one of Florida's beautiful beaches and when you get to hot, you can cool down in the Atlantic Ocean.
While in Cocoa, you can visit the Cocoa Beach Pier where you can get an up close look at the many pelicans that call the pier home, grab an ice cream at the Ice Cream Shop, go fishing, or even enjoy the drink of your choice at the Mai Tiki Bar and the end of the pier.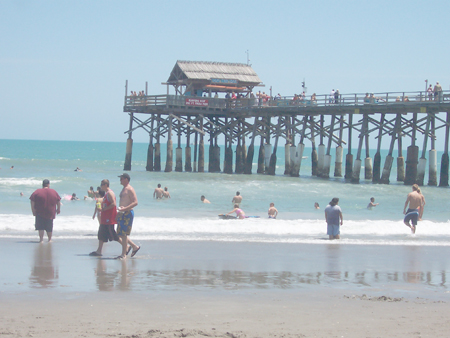 It's been called the quintessential beach town, and Cocoa Beach, an hour's drive east of Orlando on Florida's beautiful Space Coast, offers endless ways to enjoy recreation and leisure. Whether you are planning a family beach vacation, leisure travel, a business trip, a weekend getaway, or just a day at the beach, you'll find everything you need in Cocoa Beach and the Space Coast area to make your stay one to remember.
You can visit attractions like the Kennedy Space Center (maybe even see a space shuttle liftoff!), or the Brevard Zoo, then spend time doing some fabulous shopping or golfing. You can even drive just a short distance to all the Orlando attractions, then return to Cocoa Beach to enjoy dinner at one of the many dining spots on the beach, ranging from elegant to sand-in-your-shoes casual.  
And, in addition to being the closest beach to Orlando, Cocoa Beach is situated just minutes from Florida's fastest growing port – Port Canaveral – where you can embark from the world class cruise terminals aboard affordable cruises to exotic destinations. Disney Cruise Line makes its home in Port Canaveral, as well as Carnival and Royal Caribbean Cruise Lines.
 
Cocoa Beach is all about the beach. The small wave capital of the world is perfect for beginning and experienced surfers alike. Show off your moves in the water at the Cocoa Beach Pier, or see and be seen in the latest surf attire from Ron Jon Surf Shop. Within a short walk of Ron Jon's you'll find plenty of restaurants and shops full of clothing and seashells. You can rent and buy beach gear, and even get a tattoo! There are so many things to do in Cocoa Beach and because there are so many great hotels, you can stay on the beach at the end of your day of fun in the sun.