ATTRACTION: Miniature Golf
WHERE: Monster Mini Golf , 1297 Winter Garden Vineland Rd, (Rte 535) Suite 130, Winter Garden, FL 34787
AGE RESTRICTIONS: None
PRICE: There is NO cover charge or admission to get into the facility. 18 Holes of golf ranges from $6.50, to $7.50 per person. Prices are based on height. The $7.50 "adult" price is based on the average 11yr old. Yes, this means that short people make out like bandits. Tiny monsters are free. All of the arcade and redemption games take quarters.
ADDITIONAL INFORMATION: Tel: 407 614-4688. 
Summer Hours:
Monday – Thursday: 12pm-9pm
Friday: Noon-10pm
Saturday: Noon-10pm
Sunday: Noon-8pm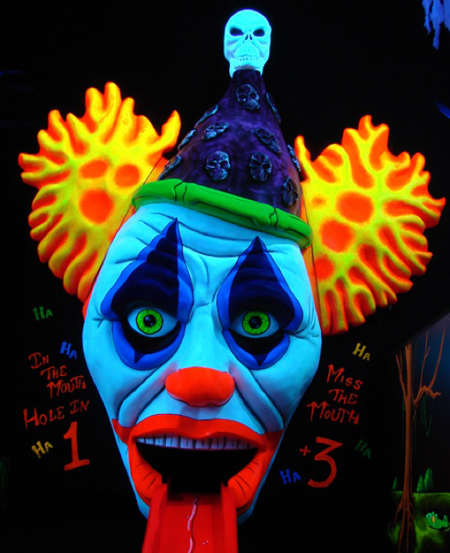 Monster Mini Golf is an exciting indoor monster themed glow in the dark 18 hole miniature golf course that offers a host of family-oriented fun activities at every turn. This is not your average putt putt golf course! Whether you're visiting for the first time, or the hundredth, you feel the excitement and adventure of playing mini golf among scary but cool monster décor with custom and animated props.
Monster Mini Golf is fun for the entire family! The courses are challenging enough for adults to navigate, yet very playable for children. Throughout your stay, you will be entertained by their own in-house crazy DJ.
In addition to miniature golf, each Monster Mini Golf has its own family arcade containing many of today's most thrilling arcade games…. and it's all indoors!  It can get pretty hot outside and so here's another great attraction where you will stay cool and protected from the afternoon rain Orlando is known for.
Does the entire place glow in the Dark?
Yes! (Except the bathrooms..that would be too weird.)
Can we still see where we're going and golfing?
Of course…they used a special high quality Fluorescent paint for all of the props, walls, special effects and lots and lots of black lighting.
Are there really Monsters and do they jump out at you?
Yes, there are monsters of all kinds (from Monster's Inc. kind of Monsters to the traditional freaky ones!), but it's not so scary that small children and meek adults would not want to come…..and NO, they do not jump out at you.