ATTRACTION: Ripley's Believe It Or Not.
WHERE:  8201 International Drive, Orlando, Florida 32819
AGE RESTRICTIONS: None.
PRICE: $18.95 plus tax for adults. $11.95 plus tax for children 4-12.
ADDITIONAL INFORMATION: Tel: (407) 363-4418 Open daily, 365 days a year 9.30am to midnight. Last Admission Sold at 11pm.  A trip through the auditorium is a self-guided experience which can last as long as you wish, although the average visit time is one to two hours.
TIP: Free entry with the Go Orlando card.
For over forty years the adventurous Robert Ripley explored the uncanny and amazing mysteries of the earth. His travels took him around the world in search of the unbelievable and inexplicable. First published in 1929, Robert Ripley's works were read worldwide in over 300 newspapers, translated into 17 languages and held a readership of over 80 million. Each of the 27 museums worldwide are 90% unique from the others. Ripley's Believe It or Not!  Museums are proud to offer you this fantastic collection of the world's strangest oddities!
The weird and wacky Ripley's Believe It or Not! 'Odditorium' looks like it's falling into a Florida sinkhole, but if you think the building looks bizarre, wait until you see what's inside. Hundreds of fascinating, outrageous, and interactive exhibits entertain the entire family. Explore an unbelievable variety of artefacts, exhibits and displays in 16 unique galleries that pay tribute to the odd and bizarre. Marvel at the collection of weird and unusual relics and rare treasures. The Odditorium showcases an actual human shrunken head, an exciting dinosaur exhibit, an Egyptian mummy, a tribute to Robert Wadlow–the World's Tallest Man, a two-headed calf, an interactive illusions gallery, a 10-foot section of the Berlin Wall, and a Rolls Royce made from more than one million match sticks. Cameras and camcorders are welcome on your self-guided, self-paced tour.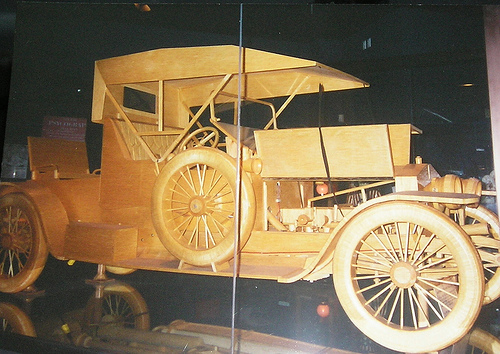 Matchstick 'Silver Ghost' Rolls Royce.
This 1907 Silver Ghost Rolls Royce was made by Reg Pollard of Manchester, England from 63 pints of glue and 1,016,711 ordinary matchsticks! This 13 feet authentically detailed 3/4 scale model, complete with moving engine parts, wheels that turn, and lights that work took Mr. Pollard 4,609 man-hours, spread over fifteen months, to build! Suffering from acute arthritis, Mr. Pollard made over 550 matchstick models during his lifetime. Believe It or Not!