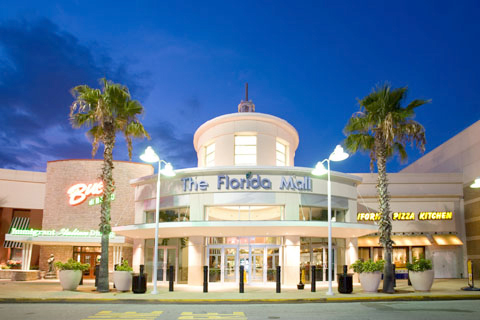 Florida Mall
8001 South Orange Blossom Trail
Regular mall hours:
Monday to Saturday 10am – 9pm, Sunday 12pm – 6pm.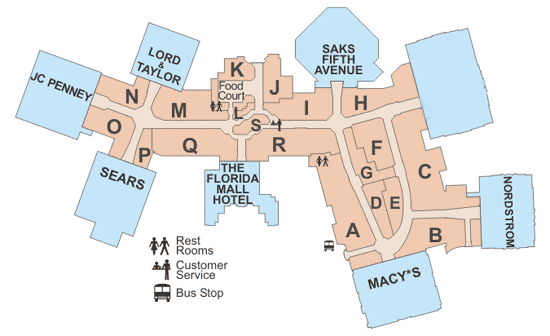 New York & Company Accessories

Sunglass Hut International

Wilsons

The Leather Experts

Cards / Books / Gifts / Stationery

Harry & David Gourmet Foods

Home Decor / Accesorios para el Hogar

Hoopla (Formally Department 56)

The Terrace at Florida Mall

American Eagle Outfitters

Wilsons

The Leather Experts

Men's and Women's FashionsModas de Caballeros y Damas

Wilsons

The Leather Experts

Music / Electronics / Video

Bobby Allison's Cellular Systems

fye – For Your Entertainment

Restaurants (order at the counter)

Dairy Queen/ Orange Julius

Restaurants (order via wait staff)

Le Jardin Restaurant & Habitat Lounge

Salsa Taqueria & Tequilla Bar

International Visitors Bureau #1

International Visitors Bureau #2

International Visitors Bureau #3

International Visitors Bureau #4

East Mall Entrance near Burdines

Simon Youth Foundation Education Resource Center

The Terrace at Florida Mall

Barnie's Coffee & Tea Company

Kohr Bros. Frozen Custard

The Body Shop Skin & Hair

Sporting Goods / Activewear

Playmobil Fun Park Orlando

White House & Black Market

Women's Specialty Fashions

White House & Black Market
Guest Services
Baby Changing Station:
For your convenience, baby changing stations are available inside both men's
and women's mall restrooms located in the Food Court and next to The Walking Company (near Center Court).
Cab Stand: Taxi cabs are available at the Food Court Mall Entrance.
Free Wireless Internet:
Wireless Internet (wifi) is available throughout The Florida Mall.
Gift Wrapping: Gift wrapping is available at some of the specialty stores and at most of the department stores. Seasonal gift wrapping is also available. Visit the Simon Guest Services Booth for details.
Parking: Over 9,220 parking spaces and 3 convenient main mall entrances. Enter the mall at the Food Court by Saks Fifth Avenue or at either of our 2 new entrances adjacent to Macy's. Handicapped spaces are available.
Stamps: There is a post office box located near the management offices.
Strollers: Strollers are available for a nominal fee at convenient cart locations in front of Sears and Dillards. Single and Double strollers can be rented for just $5. Shoppers will receive a $1 refund upon the return of the stroller.
Wheelchairs: Wheelchairs are available at Simon Guest Services on a first-come, first-serve basis. Wheelchairs are complimentary for use, however donations are greatly appreciated. All proceeds collected from the service will benefit the mall's Simon Youth Foundation. A valid form of picture identification is required to borrow a wheelchair.