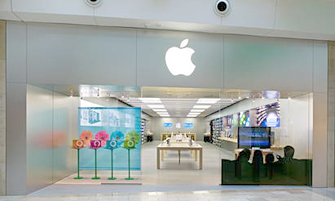 Millenia Mall
4200 Conroy Road
Orlando
Fl 32839
Regular hours: Mon – Sat 10am – 9pm. Sun Noon – 7pm.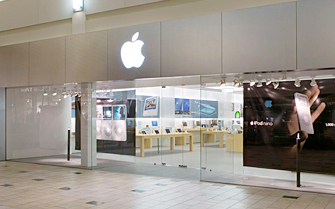 Florida Mall
8001 South Orange Blossom Trail
Regular hours: Mon – Sat 10am – 9pm. Sun Noon – 6pm.
If you are an Apple / Mac / iPod fanatic, then this place is your Mecca! They pretty much carry everthing thing you would need for your Mac / iPod.
The staff are knowledgeable, friendly and approachable too.
Whether you want some spiffy earbuds, a docking station or some speakers, the apple store has certified equipment that you can use.
Frosted glass doors, white floors, and minimal hardwood shelving allow a lot of open space for these often-crowded shops. A young, hip staff outfitted in black T-shirts and lanyard nametags help families and students find iBook and iMac computers and software. Teens and 20-somethings can be found checking out the latest iPod MP3 players and accessories. 
Personal Shopping at the Apple Retail Store: The best way to learn about new products is with a free, face-to-face shopping appointment. Pick a convenient day and time online, and one of the Specialists will spend an uninterrupted hour giving you all the assistance and answers you need to make the right choice.
What is Personal Shopping?  A new way to shop, Personal Shopping gets you undivided attention and allows you to take all the time you need to test-drive products you're interested in. If you're not sure how something works, your Specialist will give you a personal demonstration, offer advice, and answer any questions you might have.
How do I make an appointment? Click the Appointments link below and fill out the requested information. You can book time up to 14 days in advance. Simply choose the Apple Retail Store you'd like to visit and a time that's convenient for you. When you get to the store, the Concierge in the orange shirt will check you in and introduce you to your Specialist.
How should I prepare for my session? When you schedule your appointment, select a product or products you'd like to learn more about. You're welcome to go in with a list of things you'd like the Specialist to explain or demonstrate, but it's not necessary. When you arrive at the store, your Specialist will be waiting to help you and will spend as much time with you as you need.