UNIVERSAL STUDIOS ORLANDO CHARACTER GREETINGS
You can meet all sorts of fictional characters and impersonators of famous people when you visit the Universal Studios Orlando theme park. See characters step right off the movie screen…and right into the viewfinder of your very own camera! These fun character-greetings add a touch of sparkle to your day at the theme park. Why not indulge and meet a few of these "celebrities" on your next visit? Some characters at Universal Studios appeal to visitors of all ages…and other characters are especially sought-after by kids.   
Shrek, Donkey & Princess Fiona
Shrek, Donkey & Princess Fiona have there very own character meet & greet area called Donkey's Photo Finish. Shrek is silent but Princess Fiona will chat to you and, Donkey will DEFINATELY chat to you. In fact, Donkey will tease, laugh and joke with you….his voice is amazingly accurate and he has a wicked sense of humour.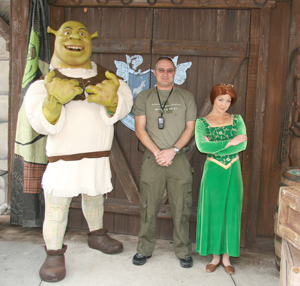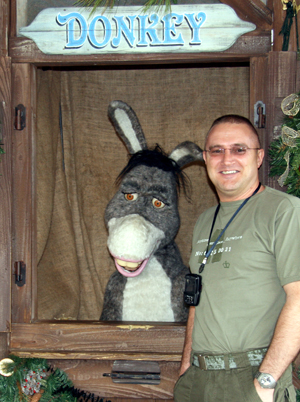 The Simpsons
Homer, Marge, Bart, and Lisa Simpson can be spotted wandering around, stopping for photo opportunities along the way.  You can spot Marge's blue beehive hairdo from across the park!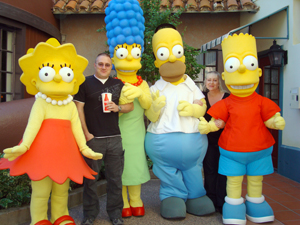 Spongebob Squarepants
Nickelodeon characters Bessy Higgenbottom, Spongebob Squarepants, Patrick, Jimmy Neutron, Dora, Diego, and the Rugrats can be seen at various times…check your daily guide for details.
At the end of the attraction Jimmy Neutron's Nicktoon Blast….when the ride is over you will exit through an interactive area and gift shop. Here you will find a Photo Op with Spongebob Squarepants.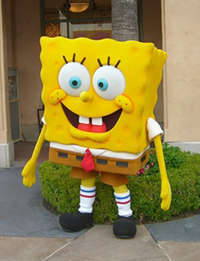 Madagascar Characters 
Alex the Lion and the Penguins from "Madagascar" are found in and around Woody Woodpecker's Kidzone.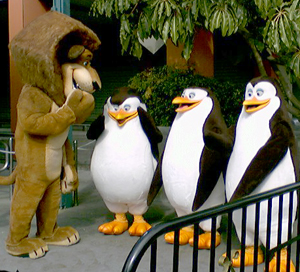 Other character appearances throughout the park are (check daily guide for which characters you can see on the day you are at Universal Studios)……
Marilyn Monroe

Lucy

and

Ricky Ricardo

Beetlejuice

Betty Boop

Scooby Doo

,

Shaggy Rogers

,

Fred Jones

,

Daphne Blake

, and

Velma Dinkley

Popeye

and

Olive Oyl

Woody and Winnie Woodpecker

Curious George

Trolly Host

Bullwinkle

The Flinstones

: Fred, Wilma, Barney and Betty.

An American Tail

: Fievel Mousekewitz

Woody Woodpecker

Barney, Baby Bop, and BJ

Curious George and the Man in the Big Yellow Hat

The Blues Brothers

The Mummy characters