**UNIVERSAL MEAL DEAL**
At Universal Orlando, you can eat throughout the theme parks from lunch through dinner for one low price.
You can purchase a Universal Meal Deal ticket online, at the theme parks' front gate and participating Meal Deal restaurant locations.
With your Universal Meal Deal ticket, enjoy as much food as you like, lunch through dinner at participating Meal Deal locations only. (Food service ends 30 minutes before theme park closing). Beverages are not included.
This ticket must be exchanged for a Meal Deal wristband at any participating restaurant. The wristband must be worn in order to take part in Meal Deal Program.
Adults $19.99 + tax. Children 9 and under $9.99 + tax. Full details HERE
Meal Deal Souvenir Cup $8.99 + tax (all ages) Full details HERE



Universal Studios Participating Restaurants:




Mel's Drive-In


Sample Menu: Burgers, Chicken and Salads

Louie's Italian Restaurant
Sample Menu: Pizza, Pasta, and Salads

International Food and Film Festival
Sample Menu: Asian, Italian, and American Food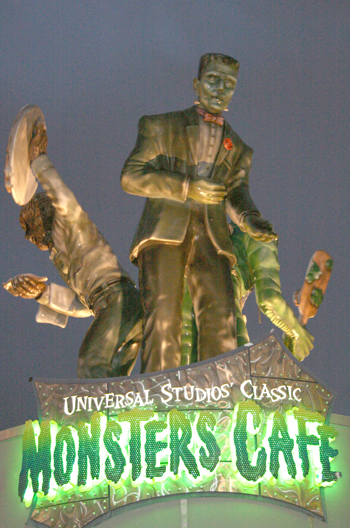 Classic Monsters Café
Food:
Rotisserie Chicken, Brick Oven Pizza, Pasta, and Salads
Type:
Counter service 
The classic monsters of Universal come alive in this goulish cafe. Choose your dining area – Crypt, Mansion, Space, or Swamp area. Each is filled with photos and props like a full-sized submerged Creature from the Black Lagoon.
Type: Bar, window service
Serving: 11am – park close
Louie's Italian Restaurant
Food:
Pizza, pasta, salad, Italian desserts, Starbucks
Type: Counter service
Serving: Lunch & dinner
One of Louie's pizzas can feed a family of 3-4, so it's economical as well as tasty. They also serve individual pasta dishes here, if you're not in the mood for pizza. Their food tastes like "real home cooking" rather than typical fried fast-food fare.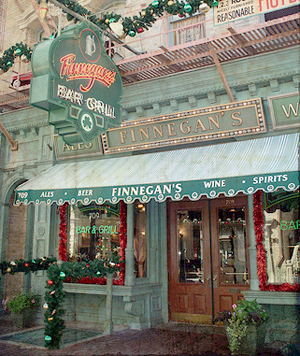 Finnegan's Bar & Grill
Food: American/ Irish: Fish 'n Chips, Corned Beef and Cabbage, Guinness Beef Stew, Sandwiches, Salads. Full bar.
Type: Casual full service
Serving: Lunch & dinner. Reservations accepted. Call Universal Studios Reservations at 407-224-3613
E
njoy dishes such as traditional corned beef and cabbage, leek soup and warm bread pudding. This is only one of two full-service restaurants in Universal Studios.
An Irish pub complete with live entertainment and walls crowded with beer and liquor ads and offbeat memorabilia. Order a yard of ale if that's your pleasure, or choose from a classy selection of domestic and imported beers. Guinness stout, Harp lager, and Bass ale are available on draught. 
Food:
Ice cream, frozen yoghurt, sorbet,
and ice cream novelty products
Serving:
11am – park close
Serving: 8.30am – park close
Beverley Hills Boulangerie
Food:
 Breakfast Croissants, Sandwiches, Daily Soup, Salads, and an assortment of freshly baked pastries and cheesecake from the Dream Factory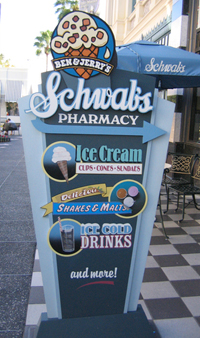 Serving:
Breakfast, lunch & dinner
This charming little bistro blends the current craze for coffee bars with a tasty array of breakfast and dessert baked goods. Outside tables available.
Food: Hot Fudge Sundaes, hand-made milkshakes and Banana Splits, sandwiches.
Type: Counter service
Serving: Lunch & dinner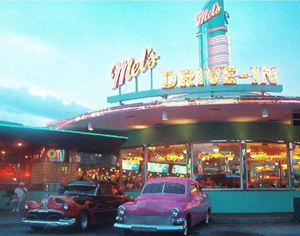 Food:
 Burgers, chicken, salads, shakes.
Serving: Lunch & dinner
Mel's Drive-In is a scene right out of American Graffiti complete with vintage cars parked out front. Inside its a fast food diner setup with fifties decor like table jukeboxes. An outdoor seating area looks out to the park's central lagoon.
Food: : Rotisserie Chicken, Baby Back Ribs, Burgers, Tortilla Salads, Wraps
Type:
Buffeteria style counter service
Serving: Lunch & dinner
Sit out in the courtyard in a delightful outdoor seating area that looks across to Mel's and the lagoon.
International Food & Film Festival
Food:
Asian, Italian, and American plus specialty salads and Soft Serve Ice Cream


Type:

Buffeteria Style Counter Service


Serving:

Lunch and Dinner

 
Video monitors are scattered around the large seating area and play clips from famous Universal movies. Many of them are dubbed to show how they play overseas. You'll constantly be watching the monitors and follow along with the foreign dialogue, as you recall the English version from your memory.
WOODY WOODPECKER'S KIDZONE
Food:
Pizza, chicken fingers & snacks


Type:

Food stand with outdoor seating


Serving:

Lunch and dinner
SAN FRANCISCO 
Food:
The Big One "Cheeseburger With the Works", Chicken Sandwich


Type:

Counter service


Serving:

Lunch and Dinner 

 
Food:
Hot dogs and fries


Type:

Counter service


Serving:

Lunch and dinner 

 
Food:
Fresh seafood, chowder, pastas and salads


Type:

Casual full service


Serving:

Lunch and dinner

 




Reservations:

Accepted. Call Universal Studios Reservations at 407-224-3613