Adrian and Edith's Head to Toe Costume Shop
Location: Hollywood Boulevard
Adrian and Edith's Head to Toe is the place to have just about anything personalized.  They sell hats and other small items that you can have done, or you bring your own.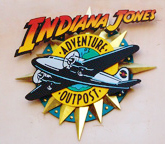 Adventure Outpost
This specialty shop has gifts, keepsakes and collectibles from the Indiana Jones movies. Head here to pick up themed hats, t-shirts, sweatshirts and toys, as well as character figurines and movie posters.If your a die-hard Indiana Jones fan, you can load up on your authentic gifts right here. A leather hat that is identical to the one in the movies will set you back around $50. It's located right outside the theater that has the show.   
Location: Animation Courtyard
This store is located at the exit of the Animation Tour and features a good collection of special edition cels created specifically for sale in this store and nowhere else.  You will also find books, CD's, framed and unframed art, and other rare collectibles.
Beverly Sunset Sweet Spells
Location: Sunset Boulevard 
Disney villains and Fantasmic! merchandise, as well as fresh-made candies.
Fantasmic gifts alongside Disney villains merchandise. Also for sale you will find a range of treats from the confectionary counter such as freshly made candy – from caramel apples to rice crispy treats.
Location: Hollywood Boulevard
Standard souvenirs and Disney Studios merchandise sometimes with hard to find characters.
Location: Hollywood Boulevard
Car themed memorabilia. Expensive add-ons for your car.  Also the place to get postage stamps.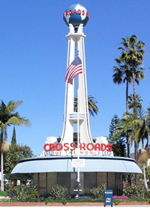 Crossroads of the World
Location: Hollywood Boulevard
Souvenirs, film and disposable cameras, sunglasses, post cards, autograph books, pens, rainwear, sundries and pins. Not a whole lot of variety and mostly for that "oops, I forgot that" moment. Located directly in front of the turnstiles as you enter the park.
Location: Hollywood Boulevard
Character gifts, plush, toys, High School Musical gifts.  Golden Age Souvenirs, like many shops around the Walt Disney World Resort, usually has a cart of iced bottled water available.
In Character-Disney's Costume Shop
Location: Animation Courtyard
Children's costumes and accessories. Everything your little ones' need to become their favourite classic Disney character.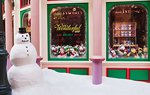 It's a Wonderful Shop
Location: Streets of America
Just what you need to get you into the Christmas spirit…every month of the year! Holiday items and decorations.
Location: Hollywood Boulevard
This is the place for adults to get their clothing, accessories and watches. This is the best place to find non-juvenile clothing and accessories for both men and women with a Disney theme.
Location: Sunset Boulevard
Character figurines, apparel & souvenirs – the ultimate shop for all your movie and film merchandise.
Location: Hollywood Boulevard
This is the "general store" for Hollywood Studios and has a wide variety of many Studios and Walt Disney World based clothing. In addition, you can find toys, games, hats, sunglasses, jackets and more.
The Mickey's of Hollywood store is the starting point for the parade that winds through Disney's Hollywood Studios theme park. For a good vantage point of the parade, stand somewhere between Mickey's of Hollywood and the Keystone Clothiers shop.
Location: Hollywood Boulevard
Disney related gifts and toys. This outdoor shop has everything to meet all of your Hollywood Studio souvenir needs.
Location: Sunset Boulevard
Rock 'n' Roller Coaster and Aerosmith logo souvenirs.   After you have blasted off on your backstage ride check out this shop as you exit. You can also purchase a photo of yourself on the ride.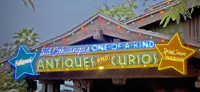 Sid Cahuenga's
Location: Hollywood Boulevard
This store is home to your favourite movie star's memorabilia. You'll find autographed photos of film and TV stars, movie posters, and television props. For the collectable items which not everyone else will have, this shop is a must. This shop also has a few photographs of Walt Disney to sell.
Location: Streets of America
Muppets merchandise, toys and Children's wear.Muppet and Sesame Street souvenir themed shop. Mainly children and baby clothes, toys and other related gifts.
Location: Hollywood Boulevard
Mostly merchandise related to the Lights, Motors, Action! Extreme Stunt show. Can get very crowded after a showing lets out.
Location: Sunset Boulevard
Limited edition and one-of-a-kind watches, collectibles, menswear and housewares.
Souvenirs and collectibles featuring characters from the Star Wars films. Get all your favourite Star Wars related clothes, gifts and toys!  Star Wars buffs searching for souvenirs from their favourite movies will be in heaven here. Everything from light sabers, to helmets to posters.
Location: Hollywood Boulevard
Kodak cameras, film accessories, film, batteries, memory cards, disposable cameras, rental cameras, film processing and anything else that works with a camera. Everything from albums to frames and photograph collectables.
Location: Streets of America
Books, magazines, along with Disney videos and audio-CDs, and some souvenir items.  Additionally, there's a coffee bar with  pastries, soft drinks, and related items. A couple of tables and even some sofas and soft seating make this a cozy place to curl up with a mug of hot chocolate and a book.
This is also one of the shops which keeps a supply of medicines and health-related items on hand in case you need them–just ask at the counter as these items aren't on display. Medicinal offerings include headache pills and powders, cough drops and syrups, cold & flu remedies, bandages, and antacid tablets.
Location: Sunset Boulevard
Tower of Terror related merchandise. Also the pick up location for your ride photos.
Location: Streets of America
Sports themed merchandise can be found in this shop.