Indiana Jones Stunt Spectacular
Indiana Jones Epic Stunt Spectacular is a live 30 minute show in a 2,000-seat outdoor amphitheater.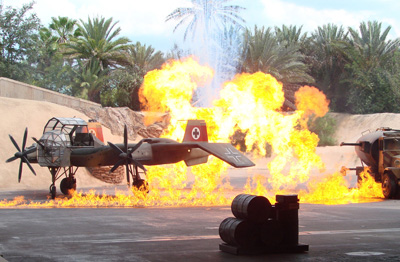 Before the show starts, a "casting director" selects enthusiastic adult volunteers from the audience and auditions them to appear as extras in the show. While they are backstage dressing, the first scene opens at an ancient Mayan temple. With a startling crash of rocks and debris, the stunt actor playing Indiana Jones literally drops into the scene and slides down a rope to open the show.
While Indy goes in search of the golden idol, he is chased by a 12-foot rolling boulder, encounters numerous perils and makes daring escapes. In the final scene, Indy and Marion are trying to escape from a German desert encampment in a World War II airplane. The tension builds as Jones is challenged to a fist fight by the most physically intimidating soldier in the regiment. Marion fends off a machine-gun attack from the remainder of the regiment, but is trapped inside the cockpit of the plane as flames from a leaking fuel tank get perilously close. Indiana again comes to her aid, braving the inferno to save her.
You are guided through the steps of making an action movie such as Indiana Jones. Everything is elaborately furnished and you'll feel like you are really watching them film the best scenes in the movie.
Guests may remain in their wheelchair, motorized scooter or ECV to experience the attraction.
Lights, Motors, Action Extreme Stunt Show
Lights, Motors, Action Extreme Stunt Show follows a movie director, stunt manager and production crew as they work on a "live" film set to capture intense vehicle stunts and pulse-pounding chase scenes for an action-packed spy thriller in the south of France.
Guests are introduced to the director and the director's staff and told that they'll be filming scenes for a film about a spy who is trying to make his getaway and now they'll be filming the stunts that need to be performed. The stunts are well executed and there really is a sense of danger, even though these stunts are highly choreographed maneuvers. A large monitor in the middle of the set keeps guests entertained before the show and explains the stunts during the show.
The shots are then edited to create the complete sequence and the extraordinary video is played back on a wall-sized screen.
The stunt cars are highly-modified Opel brand cars. Though they appear stock, they are reinforced with a rally car roll cage for driver safety. They weigh less than half that of a standard production car, but they're twice as powerful. Propelled by a 1300 cc, 150 horsepower motorcycle engine, these cars have a unique gear system: 4 forward gears and 4 reverse gears—useful for quick getaways out of town… backwards!
Look for a special appearance from Herbie, the popular Love Bug from the Disney series of films.
Guests may remain in their wheelchair, motorized scooter or ECV to experience the attraction.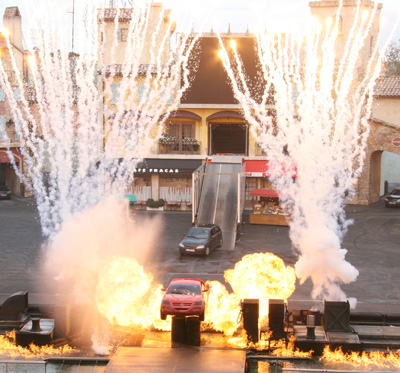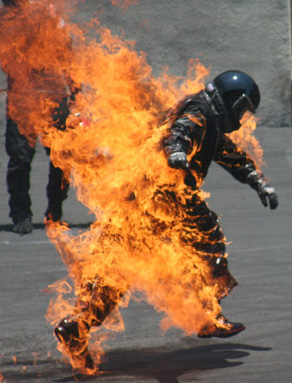 Playhouse Disney Live on Stage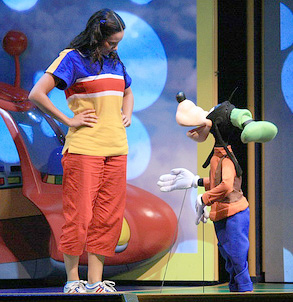 Playhouse Disney Live on Stage is a scheduled 22-minute live show.  Here, preschoolers are given the chance to sing, dance and play along with popular characters from Disney Channel's Playhouse Disney shows, like Mickey Mouse Clubhouse, Handy Manny and Little Einsteins. 
Children sit in front of the stage (no seats, just an open floor) which allows the younger ones to move around and be able to dance and sing. For any child who's dreamed of being on their favorite TV show, this is as close as it can get without actually filming.
Guests may remain in their wheelchair, motorized scooter or ECV to experience the attraction.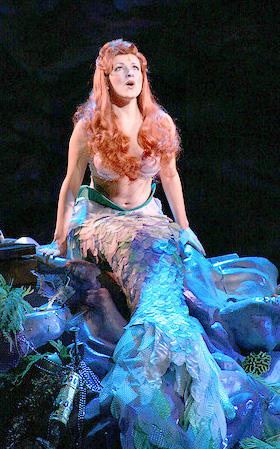 Voyage of The Little Mermaid
Voyage of The Little Mermaid is a scheduled 15-minute show appropriate for the entire family that recreates the popular Disney animated film The Little Mermaid using puppets, live performers, special effects and movie clips.
Stepping into the theater is like travelling down to Ariel's home under the sea, as the screen in front of the stage is a cascade of water. Through the show, over 100 puppets will be used and special effects will immerse you in the story being told.
Guests may remain in their wheelchair, motorized scooter or ECV to experience the attraction.
Beauty and the Beast Live on Stage
Beauty and the Beast Live on Stage is a live-action, 25-minute, Broadway-style musical for all ages based on the hit film. The outdoor theater can hold 1500 people. From toddlers to seniors, everyone can enjoy Beauty and the Beast.
The show tells the story of Belle, a beautiful but bookish girl who lives in a small French town. She is pursued by the macho Gaston, to her dismay, for she yearns for a different life. Her father, Maurice, stumbles upon the enchanted castle of the Beast, and, to free him, Belle offers herself as prisoner in his stead. Under the anxious eyes of Mrs. Potts, Lumiere and Cogsworth, among others, Belle grows to love the Beast and, despite the efforts of the townspeople led by the jilted Gaston, the couple manages a fairy tale ending
Among the shows many highlights is an unforgettable rendition of the song "Be Our Guest", complete with dancing chefs, bubbling bottles and a strawberry parfait that becomes a beautiful show girl. The music, dancing, and costumes will have you wishing this show were longer than the 25 minutes that it is packed into.
Don't take your eyes of the stage during the exciting, climatic fight scene between villain Gaston and the Beast, for it is during this scene, after Belle's declaration of love for the Beast, he magically transforms himself, in front of your eyes, into the handsome prince.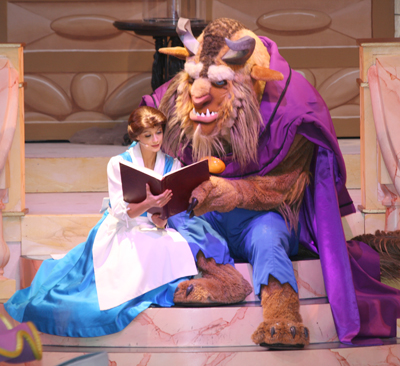 Block Party Bash is a fun-filled, 35-minute street spectacular starring all of your favorite Disney·Pixar Characters.  
Kids can interact with over 20 characters like Mike and Sulley from Monsters Inc, Toy Story's Woody and Buzz and the lovable Flik and Atta from A Bug's Life.
The impromptu party is choreographed into three themed sections which tie in with the Disney Pixar films from playing with the "toys," screaming with the "monsters" and dancing with the "bugs" all aided by high-flying acrobats, dancers, stilt performers and electric scooters. Retro tunes from Dancing in the Streets and Shout to Stayin' Alive and You've got a Friend in me accompany the upbeat street party.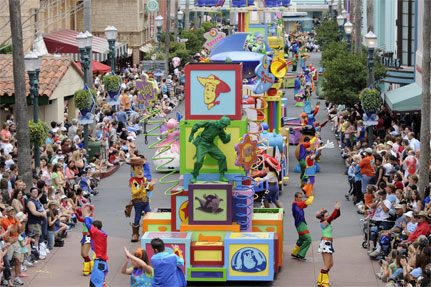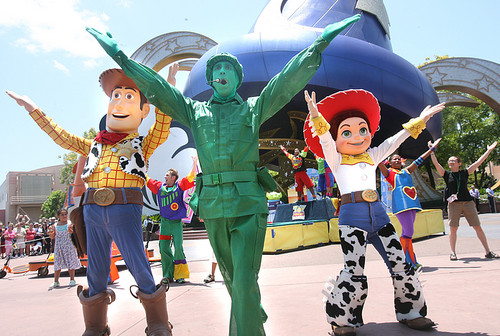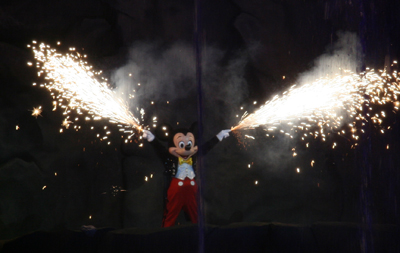 Fantasmic
Fantasmic is a breathtaking 25-minute fireworks and water show performed on select nights. Since Fantasmic is an outdoor show, it is also subject to cancellation due to inclement weather. Seating begins 90 minutes prior to each show, so arrive early to ensure you get a seat. Guests sitting in the first couple of rows may get wet during the performance.
Starring Mickey Mouse and classic Disney Characters, the show includes over one million gallons of water and 50 costumed performers. Combining explosive pyrotechnics, shimmering laser lights and dazzling dancing water effects with beloved Disney songs and animation, Fantasmic is a lavish musical extravaganza in sight and sound, overflowing with silly and suspenseful surprises for the entire family.
Fantasmic takes you into the colorful imagination of Mickey Mouse as the Sorcerer's Apprentice in this nighttime musical special effects extravaganza!  
When the Evil Queen from Snow White and the Seven Dwarfs gathers such classic villains as Ursula, Cruella de Vil, Scar, Frollo, Jafar and a larger-than-life Maleficent to turn Mickey's dreams into a nightmare, leave it to Mickey and the power of imagination to save the day. One cool effect is when film images are projected onto a screen of cascading water- very unique indeed!
One way to guarantee your seat is to book the Fantasmic Dinner Package. You can choose to eat at the Brown Derby, Mama Melrose, or Hollywood & Vine restaurants, and then be guaranteed priority seating for that night's show.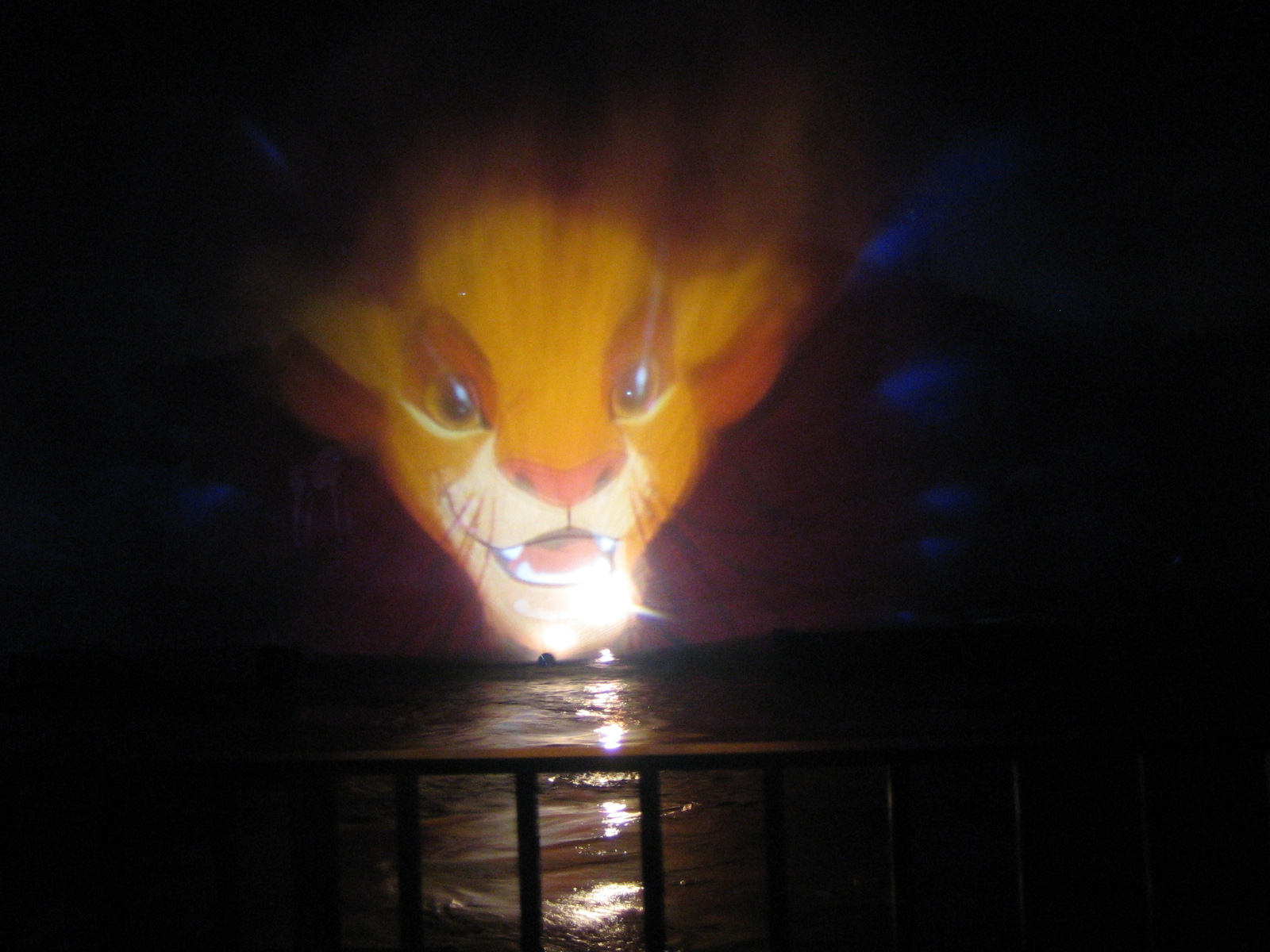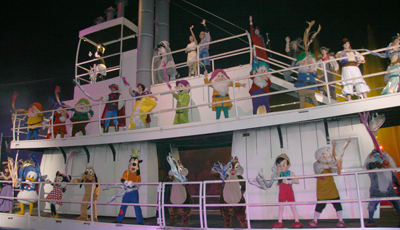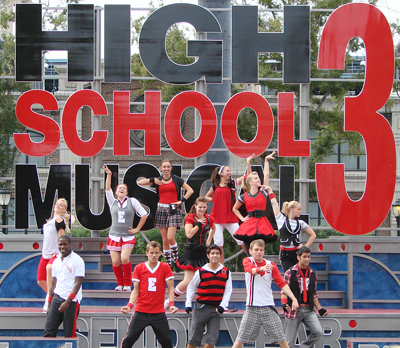 High School Musical 3: Senior Year – Right Here! Right Now!
High School Musical is a live show inspired by and featuring music from Walt Disney Pictures' High School Musical 3: Senior Year. Check your Times Guide for specific show times.
Dance, sing and cheer on the Wildcats in this rousing show as the movie you loved soars to life with tons of singing, dancing and pure "Wildcat Fever"!
The High School Musical 3 Pep Rally travels on the back of a truck down Hollywood Boulevard where it stops in front of the Sorcerer's Hat, where this high-energy show grows into a full production with interactive sequences. As the music pulsates, you'll find yourself dancing and singing like one of the Wildcats, filled with the best of teen spirit!