Christmas at Hollywood Studios
The Osborne Family Spectacle of Dancing Lights on the Streets of America is a breathtaking seasonal display featuring millions of glittering lights perfectly synchronized to holiday music.
The lights are so extensive you may find it hard to comprehend their magnitude. Entire buildings are blanketed in sheets of multi-colored lights, and thousands more lights form twirling carousels, heavenly angels, and even Santa and his reindeer. Approximately every 10 minutes, the lights dim and then dramatically spring to life — dynamically choreographed to traditional holiday music. You have to see the effect to believe it!
The show is capped off with an enchanted flurry of snow.  
The Osborne Family Spectacle of Dancing Lights is included with standard admission to Disney's Hollywood Studios theme park.
2011 Dates:
Fridays through Sundays
May 20 to 22, 2011
May 27 to 29, 2011
June 3 to 5, 2011
June 10 to 12, 2011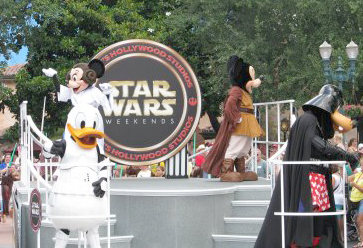 Star Wars Weekends are an annual special event that celebrates the epic space-fantasy Star Wars Saga and the new animated television series The Clone Wars. Join Jedi Masters, Sith Lords and Star Wars celebrities for special shows, presentations and memorabilia.
Fans don't have to travel to "a galaxy far, far away" to come face to face with droids, alien creatures and many of their favorite Star Wars characters.
In addition to all of the entertainment, there are plenty of conversations, autograph sessions and motorcades with the celebrities.  
Park admission is required. Star Wars Weekends events are included with admission to the park.  
The Men in White are a distinctive part of the event even before guests make it through the Studios turnstiles. The Stormtroopers are perched on the roof, signaling that something extraordinary is happening. (They didn't put Susan Lucci up there for Super Soap Weekend, I'm just sayin.')
The troopers are remote yet manage to be interactive with the crowd. There's temptation to rush into the park — but do linger. It's a crowd-pleaser. They are stationed up there from 8:15 a.m. to 11 a.m., and this year they're joined early on (until about 8:45) by Boba Fett, a bounty hunter who debuted in Empire Strikes Back.
Scheduled Celebrity Appearances
MAY 20-22
Anthony Daniels (C-3PO)

The Clone Wars Special Guest: Dave Filoni (Supervising Director)
MAY 27-29
Anthony Daniels (C-3PO)

Bruce Spence (Tion Medon)

The Clone Wars Voice Talent Guest: Dee Bradley Baker (Captain Rex)
JUNE 3-5
Ray Park (Darth Maul)

Jeremy Bulloch (Boba Fett)

The Clone Wars Voice Talent Guest: Matt Lanter (Anakin)
JUNE 10-12
Ray Park (Darth Maul)

Peter Mayhew (Chewbacca)

The Clone Wars Voice Talent Guest: Tom Kane (Yoda)
Get a guide
There's a galaxy of extra activities — trivia contests, talk shows, autograph sessions, parades, to name a few — so pick up a guide map at the entrance or at the special Star Wars Weekends Information Depot, right in front of the Sounds Dangerous theater (between Star Tours and American Idol Experience.)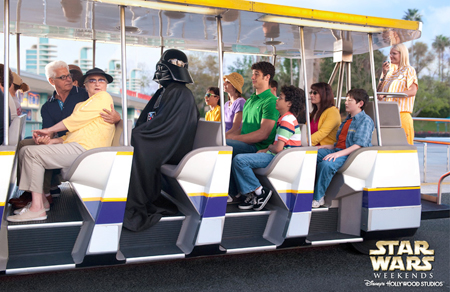 Who's new
There will be 50 characters in the park, but two characters will be making Disney World debuts: Asajj Ventress and Commander Cody from the Cartoon Network series Star Wars: The Clone Wars.
Here's where it gets a little bit odder in a worlds-collide way. Also making its first appearance will be R2-MK, which is the "astromech droid" of Jedi Mickey. (R2-MK sports personalized mouse ears.)
Lightsaber lessons
For Star Wars Weekends only, there's a change for the Jedi Training Academy attraction. Kids who want to participate in the sessions should line up in front of the nearby Sounds Dangerous theater. Space is limited, and it stands to reason that it's even more popular during Star Wars Weekends, so queue up early.
Think Fast(pass)
Autograph opportunities generally require Fastpasses. Distribution begins each day at 8:45 a.m., and it's a first-come, first-serve thing. Disney says there will be signage out front and that there will be more celebrities to choose from this year.
Photo ops
Characters will be spread across the park, some stationed, some roaming (again, consult your guide map). But one big, collective group shot is available at the end of the "Legends of the Force" parade. Characters and actors strike poses on the Star Tours stage.
Shop til you Ewok
Shopping for merchandise has been moved and split into two locations. The Dark Side Depot will be near the entrance of the Backlot Tour and sell Star Wars merch. Boba's Bounty will set up within the AFI Showcase exhibit (the end of Backlot Tour) and feature event-specific goods, including a Star Wars Weekend throw. (Warning: This piece sold out the first weekend last year.)
Finale
The day ends with the Hyperspace Hoopla, Star Wars characters behaving in a stage show as you've never seen them. If you're a purist, you might have doubts. This year's theme remains secretive, but the '80s seem to be in the air.