Downtown Disney Area admission and parking are complimentary.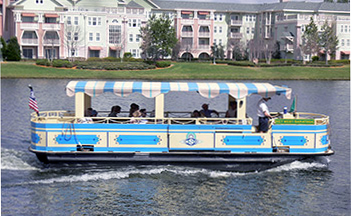 Buses and ferries alike travel to Downtown Disney.
From any resort, you can take the Downtown Disney & Typhoon Lagoon bus from your resort's bus stop. The buses make stops at Typhoon Lagoon, at Downtown Disney Marketplace, and between the West Side and Pleasure Island.
Ferries travel the Sassagoula River from Port Orleans Riverside, Port Orleans French Quarter, Old Key West, and Saratoga Springs to Downtown Disney. The ferry docks are at the Marketplace and at the far end of the West Side. You can't get to Typhoon Lagoon by boat.
Saratoga Springs and Downtown Disney Hotel Plaza guests can also walk to Downtown Disney.
From the parks…
From any of the four theme parks, you will need to make your way to a resort, then go from that resort to Downtown Disney. Your best option might be to take a bus to Saratoga Springs and then walk to Downtown Disney.
If you're tired of walking and need to get from one end of Downtown Disney to the other, a free shuttle boat runs between the Marketplace and West Side docks every 15 minutes or so—make sure you get on the Green Flag boat.