Fultons Crab House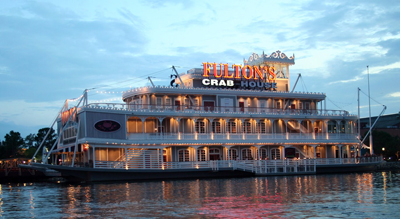 Cuisine: Seafood
Location: Marketplace
Price Range: Lunch $$ ($15-$29.99 per person) Dinner $$$ ($30-$49.99 per person)
Information:
To make reservations, book online or call (407) 939-3463 up to 180 days prior to your visit. Specialty celebration cakes are available for an additional charge and should be ordered 48 hours in advance by calling (407) 827-2253. Menu items and prices subject to change without notice. This experience takes place in a non-smoking environment. Special seating requests, such as by the window or outside must be made at the podium. An 18% service charge is added for parties of 6 or more. Alcoholic drinks are only served to Guests 21 years of age and older.
Fresh seafood is flown in daily from ports worldwide for your lunch and dinner. Set in an authentic riverboat replica docked right on the waterfront, this restaurant features over 50 fresh seafood selections, as well as a variety of non-seafood specialties. It's your lucky day — your ship has come in!
Try a speciality like Alaskan Crab Legs or Filet Mignon and Australian Lobster Tail. And pair your meal with a perfect wine from the 2,000-bottle wine cellar. Menus are changed daily to highlight fresh fish selections chosen by the award-winning chefs. There's even a menu for children, with their own favorite foods.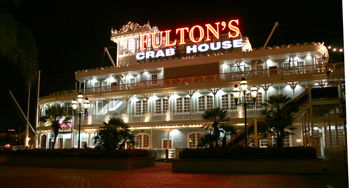 Lunch Menu  (sample – menus changed daily)
Dinner Menu  (sample – menus changed daily)