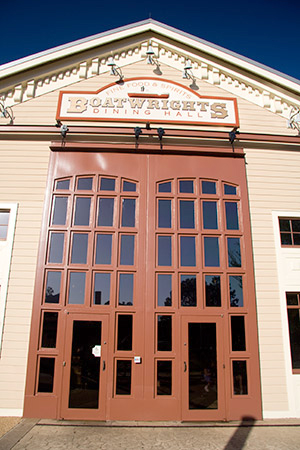 Boatwright's Dining Hall
Cuisine: American
Price Range: $$$ ($15-$29.99 per person)
Information: To make reservations call (407) 939-3463 up to 180 days prior to your visit. Specialty celebration cakes are available for an additional charge and should be ordered 48 hours in advance by calling (407) 827-2253. Menu items and prices subject to change without notice.
Themed after a wooden shipbuilding yard with vintage shipbuilding tools hanging on the walls inside the restaurant, even your cutlery is presented to your table in a woodworker's toolbox. The partially built sailboat located inside the restaurant is actually an authentic reproduction of a flat bottom "New Orleans Lugger" that sailed the Mississippi River in the 1820s.
This popular table-service restaurant features Southern-style cuisine as well as American dishes. Entrees such as jambalaya and blackened red snapper, and more traditional fare like prime rib, pasta with shrimp and filet mignon, grace dinner plates. Southern sides and pecan pie round out the dining experience.
A children's menu is available for dinner. Boatwright's is open daily for dinner from 5:00pm until 10:00pm, but is closed for breakfast and lunch.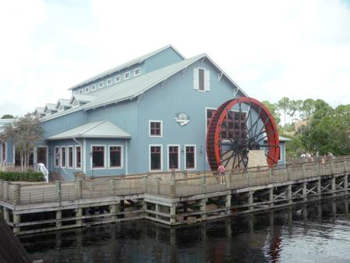 Riverside Mill Foodcourt   
Cuisine: American
Price Range: $ ($14.99 and under per person)
If you are looking for good food fast, the Port Orleans Riverside food court is available all day long featuring fresh baked goods, pizza, pasta, hamburgers and some fantastic Southern specialties. The Riverside Mill also features a country market with prepackaged items to grab and go.
Soak up the scenery and the Cajun spices as you dine in this 450-seat food court near to the 35 (some sources say 32) foot water wheel that operates a working cotton press.
There are five serving stations which provide a variety of different food types — bakery/ice cream, grill, pasta, carved meats, pizza, etc — plus the Grab and Go refrigerator which contains chilled drinks and pre-packaged items. Once you've selected your food, you head over to one of the payment desks before collecting your cutlery, condiments and any dispensed drinks from the central island and finding a table. If your party needs items from different stations it's usually easiest to split up, collect your food, and then all meet up back at the payment desk.
BREAKFAST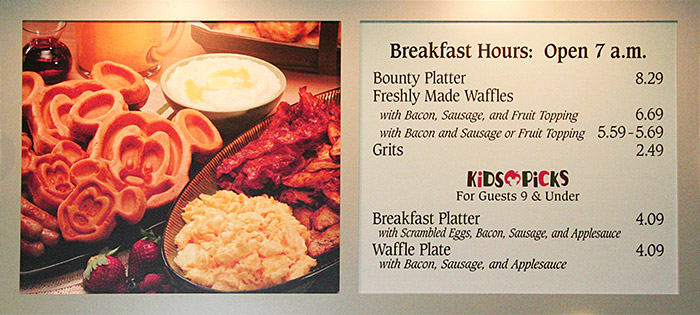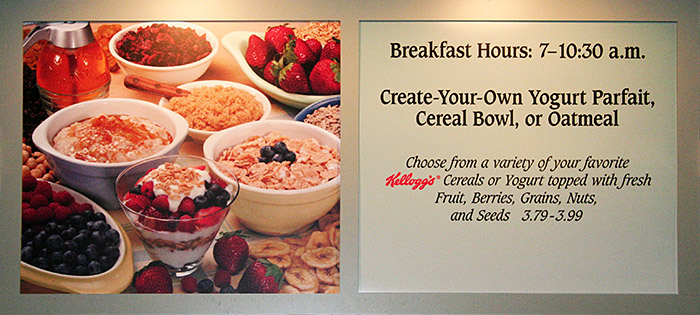 LUNCH & DINNER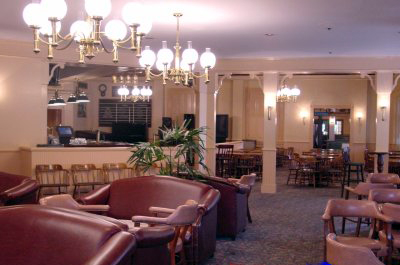 River Roost Lounge Bar   
Cuisine: American
Price Range: $ ($14.99 and under per person)
Information: Open from 4pm until midnight
Curl up in one of the overstuffed chairs next to the fireplace, or belly up to the bar — the River Roost is the place to gather for an ice-cold beer, Southern-style specialty drinks and the best appetizers this side of Sassagoula. Sip a Hurricane, Sassagoula Sunset or Bayou Bloody Mary as you soak up the riverside romance, this is a great place to grab a nightcap after an exciting day exploring the parks.
Snacks
Warm Spinach & Artichoke Dip
With crab meat – $7.49
Nachos
Covered with beef chilli, cheddar cheese, and salsa – $7.99
Honey-Ginger Chicken Wings – $7.99
Served with dipping sauces
mustard
peanut
sweet chilli
Shrimp Cocktail
Served with garlic mayo and cocktail sauce – $9.99
Cheese & Fruit Plate – $7.99