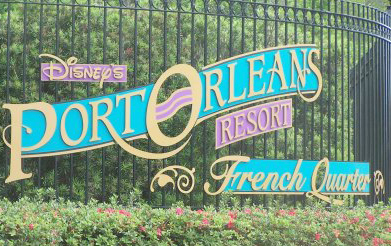 Port Orleans Riverside & French Quarter are two of disneys hotels that are classed as moderate hotels.  They are both themed to look like the Old South or New Orleans to be precise. Both hotels are located in the Downtown Disney Area
Port Orleans French Quarter was designed to look like the style and architecture of New Orleans French Quarter. The hotel was opened on May 17th 1991 but was named as Disney's Port Orleans Resort.  The hotel had 432 rooms in 3 buildings and has grown to 1008 rooms in 7 x 3 story buildings each containing 144 rooms.
On April 1st 2001 the Disney's Port Orleans Resort became known as Port Orleans French Quarter.
Location:
Downtown Disney Area 
Address:
2201 Orleans Drive
Lake Buena Vista, FL 32830 
Rates From:
£ 84 per room, per night
Concierge Services
Laundry Services
In-room Refrigerator
Wheelchair Access
Cable or Satellite TV
Extended Theme Park Hours
Key to the World Card
Resort Transportation