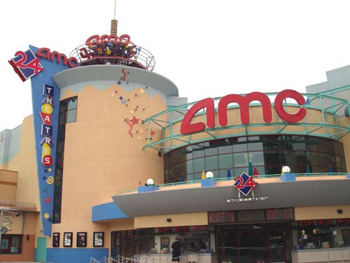 Movies showing right now and show times – HERE
24 screens and 5,400 seats (all stadium style) make this theatre one of the largest in Central Florida.  
Choose to view any movie while at Downtown Disney, and you can then spend the time before your movie starts browsing through the shops nearby, or having a drink or a meal at one of the restaurants. Once inside, you can buy the usual selection of popcorn, candies, drinks, nachos and hot-dogs and then stroll through to your theatre and sit in plush, high backed comfortable seats and enjoy the total experience of crystal clear THX sound systems and screens.
AMC Entertainment upgraded auditorium one to be the first Enhanced Theater Experience (ETX) in the United States. The ETX auditorium includes a 20 percent larger, floor-to-ceiling screen, 3D technology, 12 channel audio and digital projection that delivers higher resolution than HD.
Tickets: $6.00-$12.00.
Annual/Seasonal Passholders receive $2.00 off adult evening admission price 7 days a week after 6pm