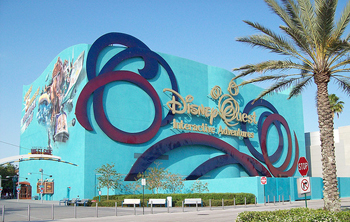 DisneyQuest Indoor Interactive theme park is a one-of-kind gaming experience in the Downtown Disney area. Discover 5 floors of cutting-edge technology, virtual reality and 3D encounters fueled by Disney innovation and imagination, as well as favorite videogames from your past.
Many people think of Disney Quest as 'just an arcade', but it's really much more than that. Not only is it five stories tall (when was the last time you were in a five story arcade?) but it's filled with some pretty cool interactive experiences that you certainly wouldn't find in any ordinary arcade.
There's a cool interactive dinosaur adventure in which you pilot a raft down a river in prehistoric times. You sit in the raft with real oars and paddle and steer it down a simulated river. Very fun- you even get wet! You can also design (AND RIDE!) your own roller coaster. First you design it using video screens and custom software, and then you go into a simulator to ride. Make a loop in your coaster; you'll loop in the simulator!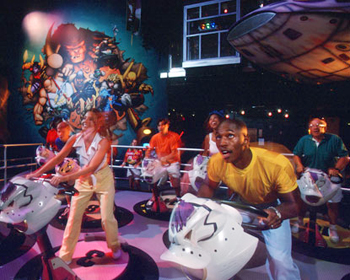 This cutting edge amusement center and multilevel arcade boasts the latest in gaming technology, including an interactive play area with laser tag, virtual reality adventures, and the latest grand-scale arcade games.
Inside the building, there is no hint of the outside world, except what can be seen through glass doors on the front entrance and gift shop exit. The layout of DisneyQuest is almost as complex as the experience itself. Staircases swirl from floor to floor. The zones, or levels, are designed to flow seamlessly, one into the next. Some zones keep the action to one floor; others let you peek from floor-to-floor, with the end result a labyrinth of pathways with an adventure around every corner.
DisneyQuests also has its own naming conventions. Employees are called "navigators." The entrance is not an entrance, it's the Departure Lobby. It features gold pillars with faces of Disney characters engraved into the columns.  
The "Cybrolator" – an elevator to you and me – takes you on a comic jolt-of-a-journey to the third-floor Ventureport, the start of your adventure. The Cybrolator is almost a ride itself.
Pirates of the Caribbean — Battle for Buccaneer Gold
Inhabit a world where blade meets blade, booming with swashbuckling action. Steer your pirate's ship, fire cannons at marauding buccaneers and race for the gold! (Guests must meet a minimum of 35″ to ride) 
Virtual Jungle Cruise  
Plunge down a prehistoric river on a raft in the Dinosaur Age. Try desperately to avoid dangerous obstacles in the running rapids. With a touch of 4-D, you may even get splashed! 
CyberSpace Mountain  
Design your own roller coaster on a computer, with special assistance from Bill Nye the Science Guy. Make it as scary as you want. When you're done, jump in a simulator and ride your creation in full 360° motion& if you dare! (Guests must meet a minimum of 51″ to ride) 
Buzz Lightyear's Astroblasters  
Pilot your own futuristic bumper car "Astroblaster". The only problem is you're in a battle and always under attack! So you must fight back by scooping up "asteroids", loading them into your blaster and firing away at the other cars. It's an asteroid-blasting game unlike any other! (Guests must meet a minimum of 51″ to ride) 
Animation Academy
Be a Disney animator! An instructor takes you through the process of drawing a Disney character step by step. You'll delight yourself when you see what you are capable of creating! 
Mighty Ducks Pinball Slam
Hip check your friends in a life sized Mighty Ducks pinball game. (Guests under 48″ tall should see a Navigator for assistance.) 
Battle supervillians as you fly through a virtual reality comic book world! 
Aladdin's Magic Carpet Ride  
Fly through the alleys and streets of Agrabah on a hunt to find the magic lamp and save the Genie!
Price:$35.00-$41.00. Prices are subject to change without notice
Hours of operation are as follows:
Sunday – Thursday: 11:30 a.m. to 10:00 p.m.
Friday – Saturday: 11:30 a.m. to 11:00 p.m.  
Downtown Disney Westside
Buena Vista Drive
Kissimmee, FL
Tel: (407) 934-7639