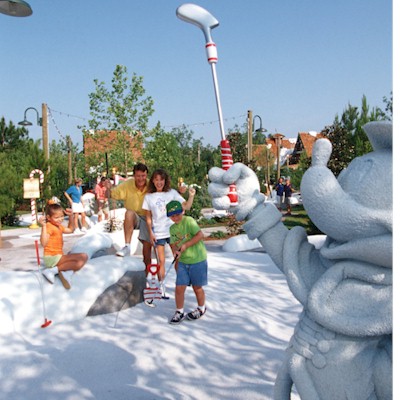 "Watch out for the Snowman or you'll get wet"
Our favourite minigolf course in the Orlando area! Winter Summerland is found just inside the entrance to the Blizzard Beach water park. The theme is Santa's off-season retreat and is divided into two 18 hole courses. 1. Winterland which has oodles of snow and 2. Summerland with christmas ornaments on palm trees
Both courses take about an hour to play and are approximately the same difficulty level, that is to say, easy and fun!
Winter Summerland is open daily 10am – 11pm
How to get there?
Take a Disney bus to Blizzard beach, you'll find winter summerland just inside the entrance clearly marked. After Blizzard Beach closes, look for the route which goes allstars-blizzard beach-epcot or drive/taxi to the Blizzard Beach parking lot.
How much does it cost?
Current 2008 prices are:-
Adult (10 or over) $11.75 per round
Child (3-9) $9.75
New: each guest will receive one Walt Disney World Miniature Golf logo golf ball for each round played
Are there any discounts available?
Yes! Annual Passholder rate is 50% off or "buy one get one free" depending how you look at it
Do I need a water park pass to play golf?
No, the golf course is outside the water park entrance so you do NOT need to pay for Blizzard Beach admission to play minigolf
Can we have a birthday party or other celebration here?
Yes, the package includes a 2-hour party for a minimum of 10 guests. It costs $16.95 per person payable with credit card including a credit card hold in advance. One weeks notice at least is required by calling 407 WDW PLAY. Included are pizza, soft drink, cake, goodie bags and one round of golf each. Times to choose from: 10am->12pm, 12pm->2pm, 2pm->4pm, 4pm->6pm