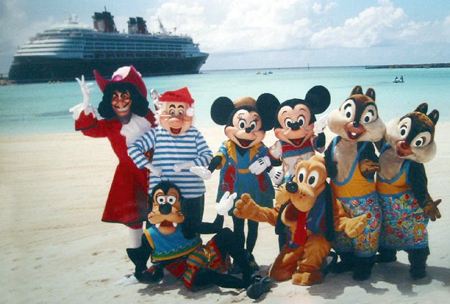 Castaway Cay is Disney`s own private island, located in the Bahamas at a point 225 nautical miles from Port Canaveral, 26° 04′ 608″ N,  77° 32′ 283″ W to be precise!

The island was previously called Gorda Cay before Disney`s  acquisition in the early 1990`s, and it was once used mainly as a stop for drug smugglers. The now disused airstrip which was presumably used for these activities now bears the name "Castaway Cay" in large white letters provided by the new owners.

The beach where Tom Hanks first encountered Daryl Hannah in the movie "Splash" was filmed on the island.

Castaway Cay is 3.1 miles long and 2.2 mile wide, occupying an area of approximately 1,000 acres although only 55 acres have been developed for the enjoyment of the visitors and enabling the natural beauty of the island`s flora to be maintained.

Disney spent around $25,000,000 in construction of the island`s facilities which involved dredging 50,000 truckloads of sand from the ocean bed in order to build the docking area for the DCL ships, and all of the works were carried out over an 18 month time frame before its opening date of July 30th 1998.

 The theming of the island is that of a castaway community and all of the buildings appear as though they were built following a shipwreck. Despite this, all of the buildings are spotless and are maintained to the same standard as any of the other Disney properties.

There are around 40 full time inhabitants of Castaway Cay whose job is to prepare the island for the visit of the Disney Cruise ships….and to tidy up after the ships have departed!

There is no potable water at Castaway Cay. Sea water is desalinated for drinking using reverse osmosis water processors.

Two of the submarines from the now defunct "20,000 Leagues Under the Sea" ride at the Magic Kingdom lie under the ocean in the snorkelling area along with a submerged statue of Mickey Mouse.

The "Flying Dutchman", used in the Pirates of the Caribbean movie "Dead Man`s Chest" is permanently moored in the bay, although this is not accessible to visitors.