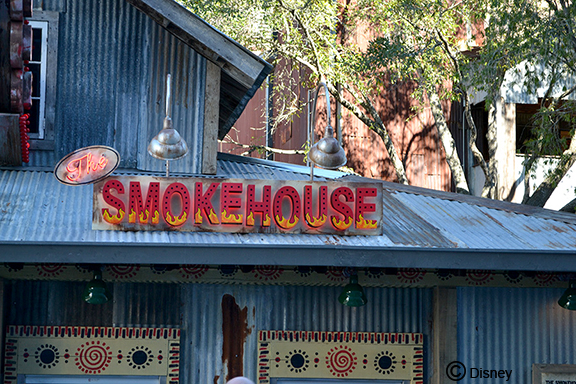 The House of Blues recently opened their new Smokehouse, a quick-service window where it's easy to grab a generous smoked beef brisket sandwich, pulled pork or chicken sandwich, smoked turkey leg, St. Louis half-rack of ribs or an all-beef hot dog.  The coleslaw has just the right amount of tang, the baked beans are sweet. the bread is soft and warm, and the meat is smoked right there in the House of Blues kitchen.
Seating is just outside of Crossroads at House of Blues on the "Front Porch," an expanded area with a stage for live (local) music seven nights a week. And the outdoor cocktail bar is handy – you can order from the bar and Smokehouse, or servers will wait on you in the evenings. Pair a brisket sandwich with a Swamp Water specialty drink (vodka, Blue Curaçao and orange juice) for a quick and casual bite.
The Smokehouse opens at 11:30 a.m. daily, with closing around 10 p.m. Prices range from $6.99 to $12.99 and is not available on the Disney Dining Plan.