WHERE:
1010 Miracle Strip Pky SE,

Fort Walton Beach, FL, 32548

.
AGE RESTRICTIONS:
None.
PRICE:
Adults (ages 11 and over): $19.75. Children (ages 3-10)

$11.50
. Ages 2 and under are

free

when accompanied by a parent paying the regular rate.

Six percent Florida state sales tax will be added to all admissions and fees. Rates are subject to change without notice.
ADDITIONAL INFORMATION:
Closed on Thanksgiving, Christmas Eve, and Christmas Day. Please call in advance to verify the park's hours of operation and show availability. Summer hours roughly 9am until 6pm. Winter hours roughly 9am until 4pm. During the winter season, the park closes for maintenance two days a week.

24-hour recorded information line is

850-244-5169

.
The main attractions of Florida's Gulfarium are the 3 live marine shows that you can see any day of the week, rain or shine. The shows are conveniently scheduled in a series so you'll never have to worry about missing a performance.
The series begins with the famous top deck Dolphin Show, featuring trained Bottlenose Dolphins performing in the main tank. Following this show is a kids' favourite, the Sea Lion Show. Prepare to laugh as these animals always keep the trainers on their toes.  Rounding out the program of shows is the MSP Show, with Bottlenose Dolphins and a California Sea Lion performing side-by-side. Don't forget to check out the shark, penguin and otter feed demonstrations between the shows!
The Dolphin Show: The Dolphin Show gets your day started as you watch Bottlenose Dolphins perform in over 500,000 gallons of filtered Gulf of Mexico saltwater.  The dolphins enjoy showing off their speed and agility in performing various acrobatic high jumps and other behaviours. Visitors are welcome to stand along the tank's railing for a close and personal look at the performing dolphins. Kids love the audience participation as they may get wet standing in the "splash zone," while a dolphin receives a touch down pass.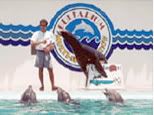 The MSP Show: Unique in the entire world, the MSP (Multi-Species) Show features Bottlenose Dolphins and a California Sea Lion performing together in the same show! Both species of animals demonstrate their intelligence by performing graceful leaps synchronized with split-second accuracy. Dolphins and sea lions are not natural friends in the wild, but they are not enemies either. This show features a sea lion feeding a fish to a dolphin, demonstrating the ability for these 2 different species to show signs of friendship towards one another.
The Sea Lion Show: This show gets everyone laughing with the playful antics of the charismatic California Sea Lions. They love to display their amazing balancing ability in addition to other behaviours…. like flips and spins. It's almost impossible not to smile and laugh as the sea lions clap and bark for one another like enthusiastic cheerleaders.
Animal Feed Demonstrations: After each Sea Lion and MSP Show you are welcome to join one of the trainers for a feed demonstration. You'll learn more about the penguins and otters as they are fed by the trainer.
Dolphin Encounter:

Spotted Dolphin Encounters are available between 9am and 4pm every day for those 7 years or older and 48″ (inches) and above.

At least 24 hours advance reservations and payment in full are required – Space is limited, book early!

Time will be spent in the shallow end of the pool allowing the dolphins to come to you. There will be up to 4 people in the water at one time. Cameras and video cameras are welcome.
The cost of the Spotted Dolphin Encounter is $150.00 per person who enters the water. All observers of the encounter pay $25.00 for adults (11 and over) and
$18.00 for children ages 3 – 10. Free for children ages 2 and under with a paying parent. These prices include the encounter, admission to the park for all shows, and animal exhibits. Spaces are limited on a first come first serve basis. A minimum of 24-hours notice is required. For available dates and times and to reserve your very own Spotted Dolphin Encounter, call 850-243-9046 Ext. 2.