ATTRACTION: Airboat rides.
WHERE:  Boggy Creek Airboat Tours, 2001 E. Southport Road, Kissimmee, Florida 34746.
AGE RESTRICTIONS: None.
PRICE: Dependant on tour….see below.
ADDITIONAL INFORMATION: Open 364 days 9am – 5pm, weather permitting.
Call (407) 344-9550 for further details.
Continuous Half Hour Airboat Tour
Discover territory that remains unaltered by man in the wilderness of the Central Florida Everglades. Let experienced Master Captains take you into the breathtaking beauty of natural wonders, including wetlands, cypress trees, and wildlife. Ride with a certified U.S. Coast Guard Captain and see Florida Alligators, turtles, birds and more in their natural environment. This safe, exciting and educational airboat ride is filled with surprises and fascination. View wildlife on a U.S. Coast Guard Inspected 17 passenger airboat. Each airboat tour is a unique experience and never the same. You will enjoy whisking across the surface of the water at speeds up to 45 mph while shooting between walls of tall grass.
Airboat Tours leave every thirty minutes from time first person signs in.  
No reservations needed.
Handicap accessible.
Adults: $25.95 / Children 3-10: $19.95 / Under 2: Free.
 One Hour Nig
ht Airboat Tour
This tour is for those who want to go to the farthest extremes in adventure and thrills and are not afraid of the dark. Search the thrilling swamps for the intimidating Florida Alligator. Watch the alligators glide across the marsh seeking their next prey. The only way to see these impressive dinosaurs is in their territory on one of the One Hour Night Airboat Tours. Your captain will wear a miner's cap that will help seek out these most revered reptiles.
Night airboat tours are seasonal. In the cold weather months, it is weather permitting only. In the warmer months, tours are approximately from 9pm – 10pm. Times vary depending on group size, day light savings, weather and lake conditions. You are provided with life vests, hearing protection, safety glasses and fun. It is suggested dressing in warm clothes even in the warmer months. Dress warmer than you are comfortable since it is typically at least 10 degrees cooler on the water in the wind. Cameras and video equipment are at your own risk due to light spray. These airboat tours are very popular so reserve early, especially during the holiday season.
If cancellation is due to weather, please call and confirm prior to not showing up to receive your valid cancellation number. If you have further questions call 407-933-5822 . To reserve this tour email:
info@bcairboats.com
Handicapped accessible.
Reservations required.
Adults:
$49.95 /

Children 3-10:

$45.95 /

Under 2:

Free
Tour Four: 45 Minute Private Airboat Tour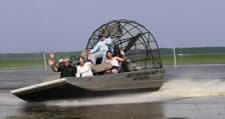 This is a great way to see wildlife with a captain and a private airboat exclusively for your group. Enter the Central Florida Everglades on this powerful airboat to see a whole different side of Orlando. This VIP tour takes you into remote natural places on a 6 passenger airboat that the larger airboats can't go. Stop along the way to ask questions, take pictures and get an up close and personal ride that your vacation will never be the same without. Life vests, and hearing protection are provided. It is suggesedt you take sun block, binoculars, sun glasses, and extra layers of clothing. Cameras and video equipment are at your own risk due to light spray. This tour is fun for all ages. For more information on the private tour email: info@bcairboats.com
Minimum of 2 and maximum of 6 passengers .
There are NO RESERVATIONS taken for this tour. You may show up from 9am to 4pm, 364 days a year.
It is advised arriving prior to 11am for a better chance to see wildlife and also for a shorter wait time.
NOTE: You may not be able to get worked in if you arrive after 11am a week prior or after major holidays.
$54.95 + tax per person
**Thank you, to Boggy Creek Airboat Tours for giving permission to use their photos.