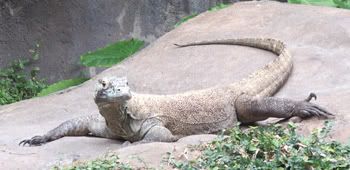 ATTRACTION: Maharaja Jungle Trek.
WHERE: Disney's Animal Kingdom.
AGE RESTRICTIONS: None.
PRICE: Free with park admittance.
ADDITIONAL INFORMATION: Always have your cameras at the ready as these animals may pose for you without notice!
Trek through flora and fauna for an adventure into the wilds of the Anandapur Royal Forest of Southeast Asia. You'll encounter spectacular wildlife beginning with the Komodo dragon. Next are flying fox and Rodriguez fruit bats with 6-foot wingspans. Then the walk's highlight—Bengal tigers roaming the grasslands surrounded by gentle deer and black buck antelope. Stare into the eyes of a tiger if you dare! This breath taking journey ends in the Asian bird sanctuary where you can spot exotic varieties of our feathered friends.