ATTRACTION:
Dolphin Plunge flume ride.
AGE RESTRICTIONS:
None, but must be 48inches tall.
PRICE:
Free with park admittance.
ADDITIONAL INFORMATION:
Height restrictions apply to some of the water rides. Aquatica will open year round at 10am daily; 9am during peak seasons. Closing hours vary by season. Aquatica will be closed select Mondays and Tuesday in November and December.
Aquatica is a one-of-a-kind water park unlike any you've ever experienced, one only SeaWorld could create. Float through an undersea world of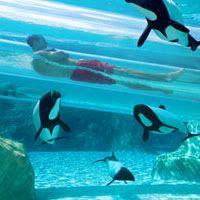 exotic fish, thunder through rolling rapids, relax on white sand beaches, or take a tube slide through an underwater world where black-and-white Commerson's dolphins play and race alongside you.
Two side-by-side enclosed tube slides send you racing through an underwater world that is home to a playful pod of beautiful black-and-white Commerson's Dolphins.
Known for their playful nature and electrifying speed, you may well see them racing right alongside you as you zoom by.
You can also watch the dolphins from a lookout area….where they have been know to leap out of the water.
Other animals at Aquatica include a giant anteater, and Sulcata tortoises from the Sahara Desert. As well as the animals in the enclosures, you will also meet a variety of animals around the park in the company of animal ambassadors.