ATTRACTION: Tiger Tug of War.
WHERE: Busch Gardens.
AGE RESTRICTIONS: None.
PRICE: Free with admission.
ADDITIONAL INFORMATION: Don't expect to always be able to experience this. The main factor will be if the tiger wants to participate.
Head over to the tiger trail and play tug of war with a tiger. Experience how powerful these pussy cats really are. The tug-of-war is a demonstration conducted with zoo educators and park volunteers. The park guests will be specifically picked based on which tiger wants to participate. Two large guests might be picked to participate when a more aggressive tiger is on the other end. A smaller park guest may be picked when a playful tiger is on the other end.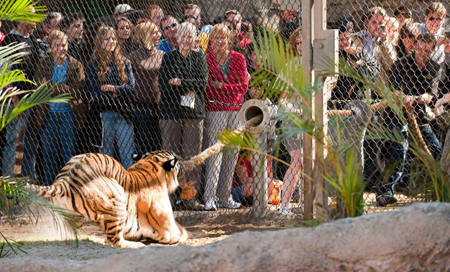 Another cool area you will come across is a cave with a ladder. One or two people can climb up it at a time and experience what it's like to be in the middle of the of the tiger habitat. It's called the Tiger Pop-Up. It's a bubble that sticks out of the ground. Guests stick their head into the bubble and they find they are in the middle of the tiger's home.