ATTRACTION: Serengeti Night Safari
WHERE: Busch Gardens.
AGE RESTRICTIONS: Participants must be at least 21 years old. Proof of ID required.
PRICE: $60 per adult plus tax. Park admission is not included but is not required.
ADDITIONAL INFORMATION: Friday and Saturday evenings starting November 2008.
This is a two hour walking tour after sunset. Experience a night to remember starting in the exclusive Safari Club.
You will enjoy Anheuser-Busch beverages and appetisers before taking a stroll through Edge of Africa in the moonlight. This is a fantastic adventure and you will explore the night time activities of the hippos, lions and hyenas.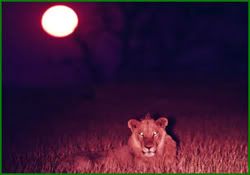 You will then hop on board an open truck and head out over the plains to view the giraffe's, zebras, and other animals using night vision goggles. Then, head off to a bonfire to listen to African tales told by your guide before you go back to the Safari Club for African coffee, tea and desserts.
Book online at buschgardens.com or visit the Adventure Tour Center inside the park.